Book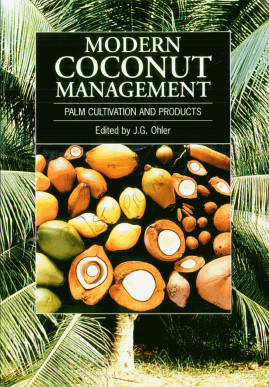 Modern Coconut Management
Palm cultivation and products
Published: 1999
Pages: 474

eBook: 9781780445502
Paperback: 9781853394676
Modern Coconut Management is aimed at guiding those who work with small-scale farmers and farmer groups through the complex area of coconut management. It will also be of value to the many processors and others whose livelihoods depend on coconuts. The emphasis is on the need for training and education of coconut smallholders in how to become good managers, using appropriate techiniques and materials. The book combines the wealth of information that exists in this area with new research in diseases and pests and breeding techniques to improve crop performance. The book also deals with coconut-based farming systems in which many aspects of the combination of coconuts with other crops and/or animals are discussed. Equally important are the processing techniques which are vital to the survival of the coconut industry. A section of the book is devoted to post-harvest treatment, processing and research where the many new developments in the processing of coconut products are discussed. Fully illustrated, including 80 colour illustrations.
ACKNOWLEDGEMENTS

LIST OF CONTRIBUTORS

LIST OF ABBREVIATIONS

PREFACE

FOREWORD

INTRODUCTION

PART I - THE COCONUT PALM AND ITS ENVIRONMENT

1. Historical Background by J.G. Ohler

Origin and Distribution

World Production

2. The Coconut Palm by J.G. Ohler

Botany,Morphology,Growth, Development and Yielding Capacity

3. Climate and Soils by J.G. Ohler

Climate

Soils

4. Disorders by J.G. Ohler

Mineral Nutrient Deficiencies

Mineral Toxicities

Drought Effects

Stem Tapering

Lightning Damage

Premature Button and Nut Shedding

5. Diseases by J.G. Ohler

Diseases caused by Nematodes

Diseases caused by Fungi

Diseases caused by Bacteria

Diseases caused by Flagellates

Diseases caused by Viruses or Viroids

Diseases caused by Mycoplasma-like Organisms

Diseases of Unknown Etiology

6. Vertebrate Pests by J.G. Ohler

Rodents

The Insect Pests of Coconut by D. Mariau

Introduction

Orthoptera

Phasmida

Isoptera

Heteroptera

Homoptera

Fulgoroidea

Lepidoptera

Coleoptera

Acarina

Conclusion

PART 11- PLANTING MATERIAL AND PLANTATION MANAGEMENT

8. Selection and Breeding by R. Bourdeix

Introduction

Genetic Diversification

Genetic Improvement Methods

Conclusion

ANNEXE I: International Cultivar List

ANNEXE 11: Measures of Stems, Leaves and Inflorescences of the

Ecotypes at the Marc Delorme Station Collection

9. Cultural Practices by J.G. Ohler

Plantation Lay-out

Clearing

The Nursery

Planting

Weeding

Cover Crops

Moisture Conservation

Irrigation

Fertilizing

Harvesting

Toddy and Sugar Production

Bart I11 - COCONUT-BASED FARMING SYSTEMS

10. General Aspects by J.G. Ohler

Mixed Cropping

Intercropping

11. The Smallholder and Coconut-based Farming Systems by S.G. Reynolds

Economics of the Smallholder Coconut Operation

12. Coconut-based Farming Systems in the Pacific by F. Opio

Introduction

Morphological Characteristics of Coconut

Land-use Intensification

Economic Aspects

Coconut Husbandry

Coconut-based Farming Systems with Animals

Coconut-based Farming Systems with Perennials

Coconut-based Multi-storey Cropping System

Relay cropping Systems

Coconut and Livestock Systems

Socio-Economic Aspects of Coconut-based Farming Systems

Conclusions

13. Coconut-based Cropping Systems in India and Sri Lanka by P.K. Das

Introduction

Root and Tuber Crops

Grain Crops

Grain Legumes

Annual Oilseeds

Vegetables

Fruits

Tree Spices

High-density Multi-species Cropping System

Conclusion

14. Pastures and Livestock under Coconut by S.G. Reynolds

Introduction

Systems

General Factors

Pasture Species

Pasture Establishment and Improvement

Pasture Management

Animal Production from Pastures under Coconut

Forage Production Seasonality and Supplementary Feed Sources

Effects of Pasture on Coconut Yields

The Economics of Livestock under Coconuts

PART IV - POST-HARVEST TREATMENT, PROCESSING, RESEARCH AND

DEVELOPMENT

15. Post-harvest Treatment by J.G. Ohler

Nut Storage

Dehusking

Nut Transportation

16. Coconut Processing by T.K.G. Ranasinghe

Introduction

World Copra Production

World Coconut Oil Trade

Coconut Preparation . .

Copra Manufacture and Storage

Coconut Oil

Desiccated Coconut .

Coconut Milk or Cream . .

Instant Coconut Milk Powder

Coconut Sap and Products

Minor Food Products from Coconut

Coconut Husk and Coir Products '

Coconut Shells and Products

Coconut Wood

Energy and Minor Uses of Coconut Palm

17. Research and Development by J.G. Ohler

Research

Development

APPENDIX I:

Institutions and experimental stations involved with coconut research and

development; International organizations; and National institutes and research

stations

BIBLIOGRAPHY

INDEX
J.G. Ohler J.G. Ohler, Agriculturist, specialized in coconuts and cashew nuts, former Senior Agricultural Officer, Royal Tropical Institue, Amsterdam, The Netherlands
Process for production of high density/high performance binderless boards from whole coconut husk
van Dam, Jan E.G
van den Oever, Martien J.A
Teunissen, Wouter
Keijsers, Edwin R.P
Peralta, Aurora G
Industrial Crops and Products, Vol. 19 (2004), Iss. 3 P.207
https://doi.org/10.1016/j.indcrop.2003.10.003
[Citations: 106]
Draft Genome of the Scarab BeetleOryctes borbonicuson La Réunion Island
Meyer, Jan M.
Markov, Gabriel V.
Baskaran, Praveen
Herrmann, Matthias
Sommer, Ralf J.
Rödelsperger, Christian
Genome Biology and Evolution, Vol. 8 (2016), Iss. 7 P.2093
https://doi.org/10.1093/gbe/evw133
[Citations: 30]
Characteristics Analysis of Coir Fiber and Performance Evaluation of Coir Fiberboard
Yao, Jia
Hu, Ying Cheng
Lu, Wei
Li, Jin
Advanced Materials Research, Vol. 146-147 (2010), Iss. P.1549
https://doi.org/10.4028/www.scientific.net/AMR.146-147.1549
[Citations: 0]