Book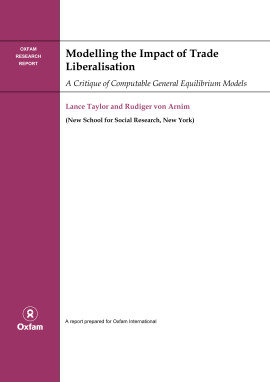 Modelling the Impact of Trade Liberalisation
A Critigue of Computable General Equilibrium Models
Published: 2006
Pages: 63

eBook: 9780855988012
Paperback: 9780855985851
This hard-hitting research report presents a rigorous critique of the most widely used trade models based on computable general equilibrium (or CGE) models. The authors present concise analytical arguments explaining the fundamental weaknesses of typical CGE models. They show that these models tend to make unrealistic assumptions about the macro-economy and do not allow an accurate estimation of the welfare gains that trade liberalisation is supposed to induce. The report appeals for honest simulation strategies showing a variety of possible outcomes, which would enable policy-makers to assess the different scenarios for themselves.
Executive summary

Introduction and overview

Part I: CGE Models of Trade Liberalisation in Practice

Micro-economic foundations

Operational model details

Model specification and macro causality in a closed economy

Open economy (Armington) macro-economics

The Armington fiscal effect

Part II: Simulations and Results

Aim and scope

Comparing models – our model versus World Bank models

Results

Conclusions

References

Appendix 1: The Social Accounting Matrix (SAM)

Appendix 2: The Model in Algebra

Acknowledgements

Endnotes
Lance Taylor
Lance Taylor is the Arnhold Professor of International Cooperation and Development and Director of the Center for Economic Policy Analysis at the New School University. He has been a professor in the economics departments of Harvard and the Massachusetts Institute of Technology, as well as being a visiting professor at the University of Minnesota, the Universidade da Brasilia, Delhi University, and the Stockholm School of Economics. He moved to the New School in 1993.
Trade Liberalization and Fiscal Stability in Developing Countries: What Does the Evidence Tell Us?
Dutt, Devika
Gallagher, Kevin P.
Thrasher, Rachel D.
Global Policy, Vol. 11 (2020), Iss. 3 P.375
https://doi.org/10.1111/1758-5899.12803
[Citations: 0]
Garment Industry in Sri Lanka and the Removal of GSP Plus by EU
Bandara, Jayatilleke S.
Naranpanawa, Athula
The World Economy, Vol. 38 (2015), Iss. 9 P.1438
https://doi.org/10.1111/twec.12182
[Citations: 5]
The TTIP's Impact: Bringing in the Missing Issue
Myant, Martin
O'Brien, Ronan
(2015)
https://doi.org/10.2139/ssrn.2554355
[Citations: 1]
Analysing Fuel Subsidy and Taxation Reform with Input–Output Data
Beutel, Joerg
World Trade Review, Vol. 19 (2020), Iss. S1 P.s62
https://doi.org/10.1017/S1474745620000282
[Citations: 1]
Trade Liberalization and Economic Development
Sundaram, Jomo Kwame
von Arnim, Rudiger
Science, Vol. 323 (2009), Iss. 5911 P.211
https://doi.org/10.1126/science.1155337
[Citations: 14]
Trade liberalization, employment and inequality in India and South Africa
KUCERA, David
RONCOLATO, Leanne
International Labour Review, Vol. 150 (2011), Iss. 1-2 P.1
https://doi.org/10.1111/j.1564-913X.2011.00103.x
[Citations: 14]
Macroeconomic Effects of 21stCentury Trade and Investment Agreements: The Case of the Trans-Pacific Partnership
Capaldo, Jeronim
Izurieta, Alex
Development and Change, Vol. 49 (2018), Iss. 4 P.951
https://doi.org/10.1111/dech.12404
[Citations: 5]
Libéralisation des échanges, emploi et inégalités en Inde et en Afrique du Sud
KUCERA, David
RONCOLATO, Leanne
Revue internationale du Travail, Vol. 150 (2011), Iss. 1-2 P.1
https://doi.org/10.1111/j.1564-9121.2011.00104.x
[Citations: 0]
Liberalización comercial, empleo y desigualdad en la India y Sudáfrica
KUCERA, David
RONCOLATO, Leanne
Revista Internacional del Trabajo, Vol. 130 (2011), Iss. 1-2 P.1
https://doi.org/10.1111/j.1564-9148.2011.00103.x
[Citations: 0]
Limiting Global Warming to Well Below 2 °C: Energy System Modelling and Policy Development
Economic Assessment of Low-Emission Development Scenarios for Ukraine
Chepeliev, Maksym
Diachuk, Oleksandr
Podolets, Roman
2018
https://doi.org/10.1007/978-3-319-74424-7_17
[Citations: 3]
Asian Growth and Trade Poles: India, China, and East and Southeast Asia
McDonald, Scott
Robinson, Sherman
Thierfelder, Karen
World Development, Vol. 36 (2008), Iss. 2 P.210
https://doi.org/10.1016/j.worlddev.2007.06.013
[Citations: 27]
Transition Towards High Share of Renewables in Ukraine: Linked Energy System and CGE Model Approach
Chepeliev, Maksym
Diachuk, Oleksandr
Podolets, Roman
(2018)
https://doi.org/10.2139/ssrn.3231225
[Citations: 0]
Agriculture reform and food crisis in Syria: Impacts on poverty and inequality
Rocchi, Benedetto
Romano, Donato
Hamza, Raid
Food Policy, Vol. 43 (2013), Iss. P.190
https://doi.org/10.1016/j.foodpol.2013.09.009
[Citations: 6]