Book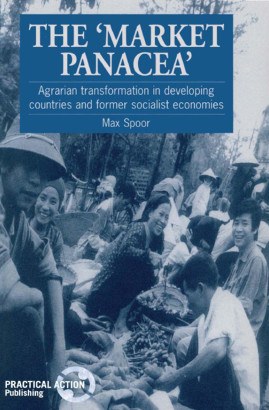 The Market Panacea
Agrarian transformation in developing countries and former socialist economies
Published: 1997
Pages: 192

eBook: 9781780445441
Paperback: 9781853394140
This book compares the experiences of structural adjustment in developing countries and the transition from centrally planned to market economies in the former socialist countries. It aims to query whether the market-led approach which has characterized both Structural Adjustment Programmes in developing countries and the transition from planned to market economies in the eastern block is likely to alleviate the stagnation caused by intervention.
PREFACE vii

LIST OF CONTRIBUTORS viii

INTRODUCTION 1

Part I Structural adjustment and the agrarian sector in

developing countries

1. Structural adjustment and the agrarian sector in Latin

America

ANDY THORPE 15

2. Agrarian transformation in Nicaragua: market liberalization

and peasant rationality

MAX SPOOR 29

3. Adjustment, agricultural modernization and land markets:

the case of Honduras

ANDY THORPE 43

4. Structural adjustment and agriculture in Africa

PHILIP RAIKES 57

5. A decade of structural adjustment in Uganda: agricultural

tradables, rural poverty and macroeconomic 'success'

DERYKE BELSHAW, PETER LAWRENCE AND MICHAEL HUBBARD 77

Part II Agrarian transition in former socialist economies

6. Agrarian transition in the former Soviet Union: the case

of Central Asia

MAX SPOOR 95

7. Transition, land reform and adjustment in Bulgaria

DIANA KOPEVA 112

8. Romanian agriculture in transition

MIHAIL DUMITRU 127

9. Agrarian reform in Russia: the case of Pskov, Orel and

Rostov oblasts

PETER WEHRHEIM 142

10. The agrarian transition in Vietnam: institutional change,

privatization and liberalization

DAOTHETUAN 156

REFERENCES 170
Max Spoor Max Spoor is Senior Lecturer in Development Economics at the Institue of Social Studies in The Hague, Europe's largest institution for post-graduate education and research in the field of Development Studies.
Agricultural Markets Beyond Liberalization
'White Gold' Versus 'Food Self-Sufficiency' in Former Soviet Central Asia
Spoor, Max
2000
https://doi.org/10.1007/978-1-4615-4523-1_3
[Citations: 3]
Agricultural Tradables and Economic Recovery in Uganda: The Limitations of Structural Adjustment in Practice
Belshaw, Deryke
Lawrence, Peter
Hubbard, Michael
World Development, Vol. 27 (1999), Iss. 4 P.673
https://doi.org/10.1016/S0305-750X(99)00030-3
[Citations: 15]
The agrarian question, past and present
Akram‐Lodhi, A. Haroon
Journal of Peasant Studies, Vol. 25 (1998), Iss. 4 P.134
https://doi.org/10.1080/03066159808438687
[Citations: 12]
The Philippine Land Reform in Comparative Perspective: Some Conceptual and Methodological Implications
BORRAS, SATURNINO M.
Journal of Agrarian Change, Vol. 6 (2006), Iss. 1 P.69
https://doi.org/10.1111/j.1471-0366.2006.00115.x
[Citations: 15]
Post-socialist smallholders: silence, resistance and alternatives
Visser, Oane
Dorondel, Stefan
Jehlička, Petr
Spoor, Max
Canadian Journal of Development Studies / Revue canadienne d'études du développement, Vol. 40 (2019), Iss. 4 P.499
https://doi.org/10.1080/02255189.2019.1688649
[Citations: 10]