Book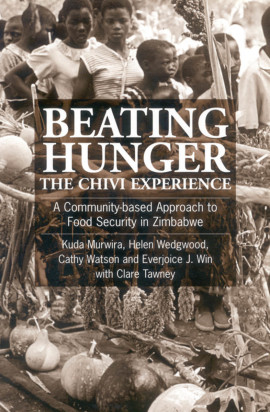 Beating Hunger, The Chivi Experience
A community-based approach to food security in Zimbabwe
Published: 2000
Pages: 160

eBook: 9781780442624
Paperback: 9781853395246
This book describes a project among small-scale farmers in the drought-prone and arid communal lands of Zimbabwe which, within the broad remit of promoting food security, helped the farmers identify their problems and choose their own solutions to them. Central to the project was the attention paid to strengthening existing institutions - the local farmers' clubs and women's garden groups - to ensure the continuity of activities after the departure of the project. Also of critical importance was the involvement of Agritex (the government agricultural extension service) from the start of the project, which has meant that the process approach that was demonstrated in Chivi District, is now being taught to extension workers and adopted throughout the service. The project also attempted to strengthen women's position in the local community without confrontation and is also being replicated elsewhere in Zimbabwe, adapting the ten-year experience in Chivi. This project has been unique internationally in its combination of the participation of local community institutions and the government's commitment to the reorganization of its agricultural development services. The range of the successful institutionalization of these methods has lessons about sustainability for us all.
Abbreviations

Acknowledgements

Foreword

1 Introduction

2 Background to the project

3 Choosing Chivi district

4 Investigating needs

5 Planning project activities

6 Training for transformation

7 Technology choices

8 Technical outcomes

9 Impact

10 Gender issues

11 Understanding the process

12 Beyond Chivi

13 The theory behind the practice

Bibliography

Appendix 1 Project chronology

Appendix 2 Financial assessment
Kuda Murwira
Kuda Murwira has worked with NGOs and other organisations involved in agriculture and rural development providing expertise in participatory development approaches, extension and training, and organizational development processes.
Contemporary Challenges of Participatory Field Research for Land Use Change Analyses: Examples from Kenya
Smucker, Thomas A.
Campbell, David J.
Olson, Jennifer M.
Wangui, Elizabeth E.
Field Methods, Vol. 19 (2007), Iss. 4 P.384
https://doi.org/10.1177/1525822X07302137
[Citations: 12]
Vocational education and training for African development: a literature review
McGrath, Simon
Ramsarup, Presha
Zeelen, Jacques
Wedekind, Volker
Allais, Stephanie
Lotz-Sisitka, Heila
Monk, David
Openjuru, George
Russon, Jo-Anna
Journal of Vocational Education & Training, Vol. 72 (2020), Iss. 4 P.465
https://doi.org/10.1080/13636820.2019.1679969
[Citations: 16]