Book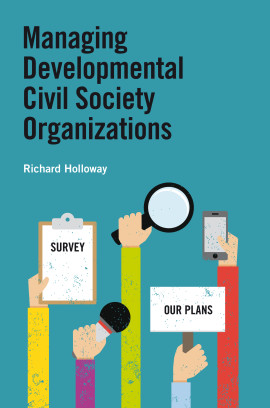 Managing Developmental Civil Society Organizations
Published: 2015
Pages: 140

eBook: 9781780449081
Hardback: 9781853399084
Paperback: 9781853399091
When citizens band together in a civil society organization to effect change for the better, they can be a tremendous force for good. This book is about how to channel people's enthusiasm most effectively, so that pitfalls are avoided, and goals are attained. The book reviews the variety and different kinds of civil society organizations (CSOs) in operation, and what is within their powers to achieve. It follows the progress of enthusiasts through to professional development practitioners, setting out the processes of planning, resource mobilization, and developing links to governments, businesses and citizens, while still conserving the spark and fire that brings citizens to development work in the first place. It highlights the alternative vision that CSOs bring to their countries' problems and how this can inspire effective service provision and advocacy, as well as holding government accountable for what has been promised but not delivered. It helps with the periodic maintenance problems of CSOs and how they can keep up their standards. Finally it addresses three dangers of CSOs – foreign donor dependence, possible irrelevance in larger strategic thinking, and the loss of organizational strength.
This book is essential reading for staff of national and international development organizations; fieldworkers; and all those wishing to create a people's organization to effect change.

Preface

1. What is civil society and what are civil society organizations?

2. Three kinds of civil society organization

3. What is the best path to take for social change?

4. What is your civil society organization going to do?

5. Moving from a good idea to a well-planned programme

6. How can you mobilize resources for your civil society organization?

7. Who does your civil society organization need to relate to?

8. Managing advocacy and social accountability

9. How can you sustain your civil society organization over time?

10. Future dangers
'Packed with hard-won insights based on the author's longstanding and unrivalled personal experience working in the civil society organization field, and drawn from his wide-ranging knowledge of relevant ideas, concepts and literature, this book is unlike any other you will read on the real worlds of civil society organizations. Read it -- and be inspired!'
Professor David Lewis, Department of Social Policy, London School of Economics & Political Science
'Unravelling civil society and then explaining how to make developmental organizations effective is a tricky challenge. It takes a person of Richard Holloway's insights and experience to do so in a real-life, practical way. Avoiding confusing theories and jargon, this book's comprehensive guidance draws on and revisits proven ideas and tools that can feed confidence about what to do and how in the messy work for sustainable change towards social justice. It is not just recommended reading to those new to the field. Old hands would do well to reflect on the text as they deal with disruptive forces that are the daily reality of management with pressures to "follow the (foreign) money", often at the cost of identity and values.'
Alan Fowler is an emeritus professor of the International Institute of Social Studies in the Hague.
'Richard Holloway has distilled key lessons from decades of experience with strengthening civil society organizations around the world in this book. It offers practical advice for building civil society organizations to foster constructive social change in many different contexts.'
L. David Brown, Senior Research Fellow (retired), Hauser Center for Nonprofit Organizations, Harvard University
'Congratulations! This is an invaluable book for those working in civil society organizations. It provides those whose hands are on the helms excellent guidelines on how to plan and execute their CSOs' work, mobilize the resources needed and dodge the dangers that confront them. It is written by one of today's most able development practitioners and the sheer immensity and diversity of his experience is evident in every page of this compelling book.'
John Clark, Chair of Board, Partnership for Transparency Fund

Richard Holloway
Richard Holloway has worked with CSOs for over 40 years in 30 countries of Africa, Asia, the Caribbean and the Pacific. He has worked with grassroots organizations, international NGOS, governments, and multilateral and bilateral donors on issues concerning civil society.
Women, Children and Social Transformation in Myanmar
Community-Based Initiatives for Securing Rights of Myanmar's Children: A Border Region Clinic and a Monastic School
Takeda, Makiko
2020
https://doi.org/10.1007/978-981-15-0821-9_4
[Citations: 0]