Book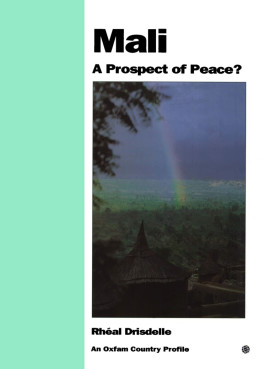 Mali
A prospect of peace?
Published: 1997
Pages: 64

eBook: 9780855987923
Paperback: 9780855983345
This outstanding series provides concise and lively introductions to countries and the major development issues they face. Packed full of factual information, photographs and maps, the guides also focus on ordinary people and the impact that historical, economic and environmental issues have on their lives.
* A land of paradoxes

* Culture old and new

* Timbuktu and the empires

* From hope to despair

* Democracy and decentralisation

* Peace and reconciliation

* Sustainable development

* Molibemo - 'let's stick together'

* 'Our hands are like wood'

* City life

* A nation at the crossroads

* Dates and events

* Mali: facts and figures

* Sources and further reading

* Acknowledgements

* Oxfam in Mali.
Rheal Drisdelle
Rhéal Drisdelle, Plan Niger's Country Director worked for Oxfam, undertaking several roles across Africa. Additionally, he managed a rehabilitation programme for a Canadian NGO in post-genocide Rwanda that focused on activities such as rebuilding homes and providing access to credit. Rhéal joined Plan in 2001 as the grants manager in Sierra Leone.