Book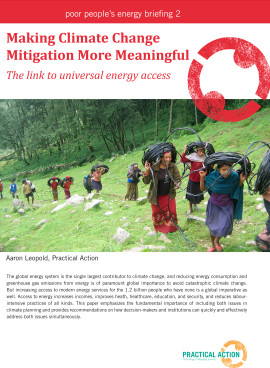 Making Climate Change Mitigation More Meaningful
The link to universal energy access
Published: 2014
Pages: 16

eBook: 9781780448732
The global energy system is the single largest contributor to climate change, and reducing energy consumption and greenhouse gas emissions from energy is of paramount global importance to avoid catastrophic climate change. But increasing access to modern energy services for the 1.2 billion people who have none is a global imperative as well. Access to energy increases incomes, improves heath, healthcare, education, and security, and reduces labour-intensive practices of all kinds. This paper emphasizes the fundamental importance of including both issues in climate planning and provides recommendations on how decision-makers and institutions can quickly and effectively address both issues simultaneously.
Executive summary

Universalizing energy access is not a climate issue

Why universal energy access does matter for the climate

Asking the right questions and training the right people

Fostering community-based mitigation

Getting to work

Conclusion

References
Aaron Leopold
Aaron Leopold is Practical Action's Global Energy Representative, representing the organization globally on energy access and development. He has worked on global climate and energy issues since 2006.
Climate Change Adaptation, Resilience and Hazards
Integrating Microfinance, Climate Finance and Climate Change Adaptation: A Sub-Saharan Africa Perspective
Chirambo, Dumisani
2016
https://doi.org/10.1007/978-3-319-39880-8_12
[Citations: 1]
Access to electricity in the World Energy Council's global energy scenarios: An outlook for developing regions until 2030
Panos, Evangelos
Densing, Martin
Volkart, Kathrin
Energy Strategy Reviews, Vol. 9 (2016), Iss. P.28
https://doi.org/10.1016/j.esr.2015.11.003
[Citations: 65]