Book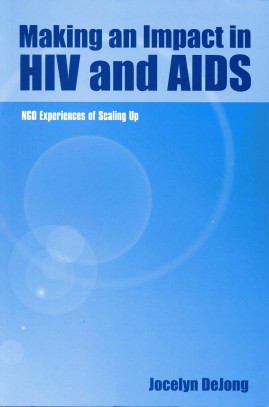 Making an Impact in HIV and Aids
NGO experiences of scaling up
Published: 2003
Pages: 160

eBook: 9781780441238
Paperback: 9781853395390
Recogonizing that scaling up NGO programmes involves more than just additional resources, Making an Impact in HIV and AIDS analyses when expansion is appropriate, how to make it effective, how to measure the costs, and what the implications for organizations may be.

The book is aimed both at HIV/AIDS workers who are interested in NGO programmes, and about NGO workers who want to explore what NGOs can do to mitigate the impact of HIV/AIDS.
Prelims (Contents, Acknowledgements, Foreword by Chris Castle, Acroynms, List of Figures, List of Case Studies)

PART I - BACKGROUND AND DEFINITIONS

1. The Importance and Urgency of Scaling Up HIV/AIDS responses

2. Defining Scaling Up in the Context of AIDS: Different Perspectives

3. Trade-Offs and Difficult Choices

PART II - STRATEGIC CONSIDERATIONS

4. Strategies for Scaling Up of Relevance to HIV/AIDS

5. Partnerships and Alliances

6. Why and When to Scale Up

7. Considering Cost

8. Challenges in Scaling Up HIV/AIDS Efforts

PART III - INSTITUTIONAL IMPLICATIONS

9. Internal Dimensions of Scaling Up

10. Implications for Donors and NGO Support Organisations in HIV/AIDS

11. Conclusion

Back Matter (Appendix: List of Workshop Participants, Glossary, Endnotes, References, Recommended Reading, Index)
Jocelyn de Jong
Jocelyn de Jong is Lecturer in Social Policy and Social Development at the Institute for Development Policy and Management at the University of Manchester.
Applied Theatre and Sexual Health Communication
Chapter 1: HIV/AIDS and the Challenge for Socially Engaged Theatre-Making
Low, Katharine E.
2020
https://doi.org/10.1057/978-1-349-95975-4_2
[Citations: 0]
The Ecosystem of Scaling Social Impact: A New Theoretical Framework and Two Case Studies
Han, Jun
Shah, Sonal
Journal of Social Entrepreneurship, Vol. 11 (2020), Iss. 2 P.215
https://doi.org/10.1080/19420676.2019.1624273
[Citations: 14]
Phytoantioxidants and Nanotherapeutics
Nanophytomedicine in Disease and Therapy
Upadhyay, Sonal
Bhushan, Ravi
Rudrapal, Mithun
2022
https://doi.org/10.1002/9781119811794.ch9
[Citations: 0]
Institutions and Instruments for Tackling Chronic Poverty: The Case of Social Protection and HIV/Aids
Slater, Rachel
(2008)
https://doi.org/10.2139/ssrn.1537166
[Citations: 1]
The Struggle for Recognition by People Living With HIV/AIDS in Sudan
DeJong, Jocelyn
Mortagy, Iman
Qualitative Health Research, Vol. 23 (2013), Iss. 6 P.782
https://doi.org/10.1177/1049732313482397
[Citations: 12]