Book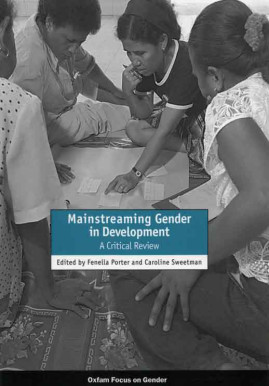 This volume offers a critical review of gender mainstreaming and aims to be enabling and practical, offering ways to help identify solutions and move past dilemmas into action. Articles discuss how gender mainstreaming has been understood in different organisations; provide examples of good work, which supports the empowerment of women; and look beyond gender mainstreaming to what new possibilities exist for transformation.
Editorial

Fenella Porter and Caroline Sweetman

Gender mainstreaming since Beijing: a review of success and limitations in international institutions

Caroline Moser and Annalise Moser

Gender mainstreaming or just more male-streaming? Experiences of popular participation in Bolivia

Suzanne Clisby

Freedom for women: mainstreaming gender in the South African liberation struggle and beyond

Shamim Meer

Gender mainstreaming in government offices in Thailand, Cambodia, and Laos: perspectives from below

Kyoko Kusakabe

Is there life after gender mainstreaming?

Aruna Rao and David Kelleher

Re-thinking gender mainstreaming in African NGOs and communities

Senorina Wendoh and Tina Wallace

Strategic gender mainstreaming in Oxfam GB

Elsa Dawson

NGOs, gender mainstreaming, and urban poor communities in Mumbai

Vandana Desai

Resources 99

Compiled by Kanika Lang

Publications

Websites

Electronic resources

Organisations
Fenella Porter Fenella Porter lectures in development at Birkbeck College, University of London. She has been an activist and researcher on development and gender, with NGOs and women's organizations in Africa and the UK.
Caroline Sweetman was previously Editor of the international journal Gender & Development.
Mainstreaming disaster risk management into management education: case of the Mona School of Business & Management
Minto-Coy, Indianna
Rao, Lila
(2016) P.177
https://doi.org/10.17230/ad-minister.28.9
[Citations: 3]
Do local needs matter?: the relevance of women's NGOs in sub-Saharan Africa
Jasor, Océane M.
Gender, Place & Culture, Vol. 23 (2016), Iss. 5 P.694
https://doi.org/10.1080/0966369X.2015.1058757
[Citations: 5]
The Palgrave Handbook of Intersectionality in Public Policy
How Intersectionality-Based Approaches to International Development Illuminate the Plight of Palestine Refugees
Burnett, Charla M.
2019
https://doi.org/10.1007/978-3-319-98473-5_25
[Citations: 0]
Women and WASH in Nepal: a scoping review of existing literature
Wali, Nidhi
Georgeou, Nichole
Simmons, Olivia
Gautam, Madhu Sudan
Gurung, Supriya
Water International, Vol. 45 (2020), Iss. 3 P.222
https://doi.org/10.1080/02508060.2020.1754564
[Citations: 5]
The Palgrave Handbook of Gender and Development
Mainstream(ing) Has Never Run Clean, Perhaps Never Can: Gender in the Main/Stream of Development
de Jong, Sara
2016
https://doi.org/10.1007/978-1-137-38273-3_7
[Citations: 9]
Normalizing Masculinities in Water Bureaucracy in Thailand
Ongsakul, Rutmanee
Resurreccion, Bernadette
Sajor, Edsel
International Journal of Public Administration, Vol. 35 (2012), Iss. 9 P.577
https://doi.org/10.1080/01900692.2012.661177
[Citations: 9]
Feminisms, Women's Rights, and the UN: Would Achieving Gender Equality Empower Women?
ARAT, ZEHRA F. KABASAKAL
American Political Science Review, Vol. 109 (2015), Iss. 4 P.674
https://doi.org/10.1017/S0003055415000386
[Citations: 25]
Intersectionality at Work: South Asian Muslim Women's Experiences of Employment and Leadership in the United Kingdom
Tariq, Memoona
Syed, Jawad
Sex Roles, Vol. 77 (2017), Iss. 7-8 P.510
https://doi.org/10.1007/s11199-017-0741-3
[Citations: 32]
Gender-Sensitive Approaches to Extension Programme Design
Jafry, Tahseen
Sulaiman V, Rasheed
The Journal of Agricultural Education and Extension, Vol. 19 (2013), Iss. 5 P.469
https://doi.org/10.1080/1389224X.2013.817345
[Citations: 8]
Expertes en genre et connaissances féministes sur le développement
Beyond depoliticisation: the multiple politics of gender expertise
Kunz, Rahel
2017
https://doi.org/10.4000/books.iheid.7175
[Citations: 2]
Mainstreaming Gender and Climate Change to Achieve a Just Transition to a Climate‐Neutral Europe
Allwood, Gill
JCMS: Journal of Common Market Studies, Vol. 58 (2020), Iss. S1 P.173
https://doi.org/10.1111/jcms.13082
[Citations: 4]
Can we turn the tide? Confronting gender inequality in climate policy
Huyer, Sophia
Acosta, Mariola
Gumucio, Tatiana
Ilham, Jasmin Irisha Jim
Gender & Development, Vol. 28 (2020), Iss. 3 P.571
https://doi.org/10.1080/13552074.2020.1836817
[Citations: 7]
World Population Policies
Future Prospects for Population Policies
May, John F.
2012
https://doi.org/10.1007/978-94-007-2837-0_9
[Citations: 1]