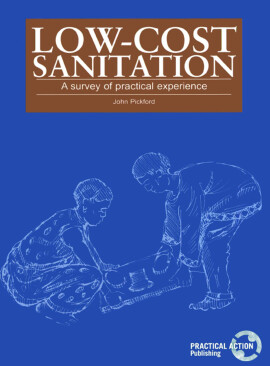 Low-Cost Sanitation
A survey of practical experience
About two billion people in the world have no adequate sanitation provision. This book is a guide to what has been learned about providing sanitation coverage for both rural and urban low-income communities, and outlines what is appropriate, practical and acceptable.
Published: 1995
Pages: 176

eBook: 9781780445366
Paperback: 9781853392337
About two billion people in the world have no adequate sanitation provision. This book is a guide to what has been learned about providing sanitation coverage for both rural and urban low-income communities, and outlines what is appropriate, practical and acceptable.
.

SANITATION IN

PERSPECTIVE

Why another book?

Sources of experience

What is sanitation?

Sanitation coverage

Some local coverage data

Unreliability of statistics

Sanitation in cities

What is appropriate sanitation?

Improving health

Privacy and convenience

Availability of resources

Criteria for satisfactory sanitation

The environment

People and communities

Management of sanitation

SANITATION AND HEALTH

Disease and death in developing

countries

Transmission of disease

Waterbome diseases

Other transmission routes

Problems with wastewater

Survival of pathogens

Use of treated wastewater

Diarrhoea and worms

Evidence of health benefits

Cost of disease

Reduced mortality and illness

Reduced incidence of worm diseases

Reduced diarrhoea

Mistaken ideas and good understanding

SANITATION ALTERNATIVES

Technology and software

In the open

Why people like the open air

Disadvantages of open defecation

Wrap and carry

Use of latrines

Women's use of latrines

Children's use of latrines

Men and latrines

Shelter and location

Privacy and protection

Doors for shelters

Prestige and status

Separate latrines for men and women

Comfortable latrines

Where to put the latrine

Location for Muslims

Congested sites

Sanitation alternatives

Cultural variations and preferences

Children's latrines

Satisfaction with latrines

Finding out what people want

Classification of methods

PARTB

APPROPRIATE

SANITATION SYSTEMS

PIT LATRINES

The pit and its size

Types of pit latrine

The popularity of pit latrines

Crude pits

Satisfactory simple pit latrines

Pit size and 'life'

Methods of anal cleaning

Rate of solids accumulation

Shallow pits

Large pits

Size for liquid infiltration

Control of flies, mosquitoes

and smell

Fits with lids

Ventilated pits

Permanent VIPs

Vent pipes

Watergate bowls

Water-seal latrines

The water seal

Alternative pour-flush latrines

Full pits and twin pits

Manual emptying of pits

Mechanical emptying of pits

Alternating pits

Double pits

Experience of twin and double pits

Slabs and linings

Slabs

Ferrocement slabs

Domed slabs

Removable slabs

Squat holes, footrests and seats

Pit linings

Pits without linings

Other pit latrines

Borehole latrines

Raised pits

Pits over swamps

EXCRETA AS A RESOURCE

The value of excreta

The value of urine

Compost latrines

Continuous compost latrines

Double vault compost latrines

Aquaculture

Biogas

Food for animals

REMOVAL SYSTEMS, SEPTIC

TANKS AND AQUA PRIVIES

Container systems

Chemical toilets (or chemical closets)

Vaults

Vault and tanker system

Cesspits

Overhung latrines

Conventional sewerage

Advantages of sewerage

Disadvantages of conventional sewerage

Some difficulties with sewerage for lowincome

communities in developing

countries

Non-conventional sewerage (NCS)

or reduced cost sewerage

Experience of NCS systems

Vacuum systems

Conventional septic tanks

Advantages of septic tanks

Disadvantages of septic tanks

Design size of septic tanks

Desludging

Small and extended septic tanks

Aqua privies

TREATMENT AND DISPOSAL

OF LIQUIDS AND SOLIDS

Disposal of liquids

Groundwater pollution

The two metre rule

Sand envelopes

Shallow groundwater

Chemical pollution

Rise of groundwater

Disposal of liquids to surface waters

Disposal of effluent from septic tanks

and aqua privies

Mound soakaways

Sewage treatment and disposal

Irrigation with wastewater 93

Wastewater treatment 94

Conventional sewage treatment 95

Waste stabilization ponds 96

Irrigation with treated wastewater 96

c. The problem of solids disposal 97

d. Treatment and disposal of solids 98

Methods of dealing with septage,

nightsoil and the contents of vaults

and pit latrines 99

PARTC

GETTING APPROPRIATE

SANITATION

8 INDIVIDUAL EFFORTS 101

a. Paying for latrines and willingness to

pay

Paying h ighly for san itation 101

b. Costs (construction, operation and

maintenance) 103

Overall costs 103

Cost of sanitation alternatives 105

Total annual cost per household 106

c. Operation and maintenance 107

Sullage in pits 108

Hygiene education 109

Controlling nuisance 109

Dealing with pits 110

Water seals and sewer connections 112

9 COMMUNITY EFFORTS 113

a. Community management, motivation

and mobilization

Communities and participation 113

Communities working together 113

Promotion and motivation 114

Community committees 116

Demonstration latrines 116

Appropriate technology for community

participation 117

Affordable participation 118

Delays with participation 118

Communities and professionals 118

b. Help from agencies 119

Help with software 119

Paying all the cost 120

Subsidies 120

Governments 121

Donors 122

NGOs and the private sector 122

c. Regulations, control, planning 124

Inappropriate regulations 124

Responsible authorities 124

Master plans 125

d. Public and communal latrines 125

Unsatisfactory public latrines 127

Popular public latrines 128

Operation by contractors 130

e. School latrines 131

10 SELECTION, EVALUATION

AND UPGRADING 133

a. Guides for selection

b. Information for selection

c. Evaluation

d. Upgrading

Upgrading pit latrines

ANNEXES

I Statistics for low income countries

II Glossary

HI Gazetteer - an index of places

IV References

V Index
John Pickford
John Pickford (1927-2006) founded the Water Engineering and Development Centre at Loughborough University 40 years ago.