Book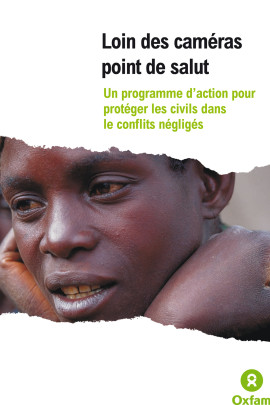 Loin des caméras
Un programme d'action pour protéger les civils dans le conflits négligés
Published: 2003
Pages: 56

eBook: 9780855987862
Depuis les atrocités du 11 Septembre 2001, les dirigeants des grandes puissances internationales se sont concentrées sur confronter ce qu'ils perçoivent comme la plus grande menace à la sécurité mondiale: la combinaison des armes de destruction massive et le terrorisme international. Lors du sommet du G8 de 2003 en France, les dirigeants du Canada, France, Allemagne, Italie, Japon, Russie, Royaume-Uni, et les États-Unis ont convenu que cette combinaison pose la plus grande menace actuelle pour la sécurité mondiale. Oxfam appelle le Conseil de sécurité de l'ONU et les dirigeants mondiaux à galvaniser la communauté internationale à prendre des mesures plus cohérente, à la fois pour protéger les civils et d'assurer la livraison de l'aide humanitaire impartiale sur la base des besoins, plutôt que priorité politique.
Executive summary

Introduction

Protecting civilians in conflict

Humanitarian aid: driven more by politics than need

Protecting those displaced by conflict: reinforcing refugee rights

Conclusion: Reinforcing an international system
Amelia Bookstein
Amelia Bookstein is the Policy Advisor for Conflict and Natural Disasters at Oxfam GB.