Book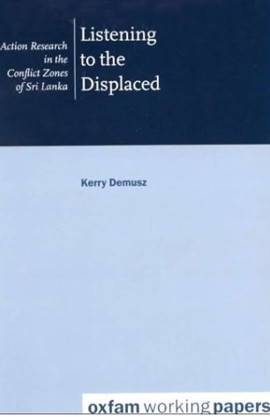 Listening to the Displaced
Action Research in the conflict zones of Sri Lanka
Published: 2000
Pages: 80

eBook: 9780855987848
Paperback: 9780855984373
Oxfam, in partnership with Save the Children, conducted a series of annual surveys of the effectiveness of NGO relief efforts in northern Sri Lanka. Men, women and children were interviewed in depth and their perceptions and criticisms were recorded. The results of these surveys were used to inform and improve the relief programme, to make it more responsive to the needs of the displaced communities. This paper offers a critical assessment of the project, describing the methodology, assessing the outcomes and identifying lessons for other agencies interested in conducting similar participative, longitudinal studies.
Acknowledgements

List of abbreviations

Introduction

1. A history of ethnic conflict in Sri Lanka

Political background

The context of humanitarian relief

2. Why listen to the displaced?

Hearing the displaced in emergencies

Why is this research important?

Objectives of the research, 1996-1998

3. How to listen to the displaced: methoodology

How to listen: early days

How to listen: later days

How to collect the information

Which method to choose?

4. Things to consider when researching displacement

Training Working with children

Gender and women's voices

Listening to the disabled

Choosing the research participants

Selecting the research team

5. Analysis

Particiative feedback sessions

Thoughts about analysis

6. Outcomes

Relief items

Gender issues

Coping mechanisms

People's capabilities

Past interventions

Information for advocacy

7. Lessons learned

Strengths of the methodology

Weaknesses of the methodology

Looking to the future - next steps

Conclusion

Notes

References

Appendices

Appendix 1: How to obtain copies of the research reports

Appendix 2: Questions asked in interview groups in 1997

Appendix 3: Site Information Recording Sheet

Maps

Map 1: Region of the conflict: Sri Lanka/India

Map 2: Sri Lanka: nine provinces and 24 districts

Map 3: The Wanni and Jaffna

Figures

Figure 1: 'Listening to the displaced' cycle

Figure 2: 'Listening to the displaced' process (detail)

Figure 3: Recording the information

Figure 4: Collating the information

Tables

Table 1: Significant events in Sri Lanka, 1948-1999

Table 2: Relief goods test results, 1996

Table 3: Samples of focus-group questions, 1997

Table 4: Key questions reviewed in 1998

Table 5: Facilitation: key issues

Index
Cultural Encounters and Emergent Practices in Conflict Resolution Capacity-Building
Staying True in Nepal: Understanding Community Mediation Through Action Research
Lederach, John Paul
Thapa, Preeti
2018
https://doi.org/10.1007/978-3-319-71102-7_2
[Citations: 0]
A house for a daughter? Constraints and opportunities in post-tsunami Eastern Sri Lanka
Thurnheer, Katharina
Contemporary South Asia, Vol. 17 (2009), Iss. 1 P.79
https://doi.org/10.1080/09584930802624687
[Citations: 11]
Selling displaced people? A multi‐method study of the public communication strategies of international refugee organisations
Ongenaert, David
Joye, Stijn
Disasters, Vol. 43 (2019), Iss. 3 P.478
https://doi.org/10.1111/disa.12353
[Citations: 4]
Home consumption of two fortified balanced energy protein supplements by pregnant women in Burkina Faso
Kok, Brenda
Moore, Katie
Jones, Leslie
Vanslambrouck, Katrien
Toe, Laeticia Celine
Ouédraogo, Moctar
Ganaba, Rasmané
Pee, Saskia
Bedford, Juliet
Lachat, Carl
Kolsteren, Patrick
Isanaka, Sheila
Maternal & Child Nutrition, Vol. 17 (2021), Iss. 3
https://doi.org/10.1111/mcn.13134
[Citations: 2]
Shared Risks and Research Dilemmas on a Peace Brigades International Team in Sri Lanka
COY, PATRICK G.
Journal of Contemporary Ethnography, Vol. 30 (2001), Iss. 5 P.575
https://doi.org/10.1177/089124101129024277
[Citations: 13]