Book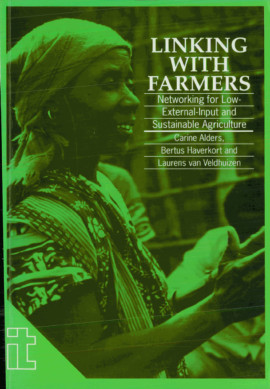 Low-External-Input and Sustainable Agriculture (LEISA) technologies are being developed throughout the tropics. This book presents experiences of different forms of networking to promote LEISA between farmers, researchers and development workers. Published in the ILEIA Readings in Sustainable Agriculture series.
Preface

Part 1: Networking for Low external-input and Sustainable Agriculture

Part 2: Farmers' Networks

Part 3: NGQ Networks

Part 4: Research Networks

Part 5: Support Organizations

Further Reading List of Networks
Agriflection: A Learning Model for Agricultural Extension in South Africa
Worth, S.H.
The Journal of Agricultural Education and Extension, Vol. 12 (2006), Iss. 3 P.179
https://doi.org/10.1080/13892240600915488
[Citations: 9]
Viewpoint
Development in Practice, Vol. 9 (1999), Iss. 4 P.449
https://doi.org/10.1080/09614529952927
[Citations: 0]
Facilitating innovation in European research area through pre-competitive EU-funded COST Actions
Rakhmatullin, Ruslan
Brennan, Louis
Journal of Innovation and Entrepreneurship, Vol. 3 (2014), Iss. 1
https://doi.org/10.1186/2192-5372-3-6
[Citations: 4]
Agricultural extension in sub-Saharan Africa: Extension typologies and issues for the future
Venkatesan, V.
Knowledge, Technology & Policy, Vol. 9 (1997), Iss. 4 P.43
https://doi.org/10.1007/BF02912436
[Citations: 1]
Challenges and opportunities of Village Community Networks within the neoliberal context: a case study of women's networks in Africa
Madaha, Rasel
African Identities, Vol. 16 (2018), Iss. 1 P.50
https://doi.org/10.1080/14725843.2017.1332982
[Citations: 5]