Book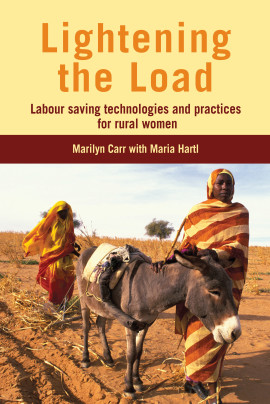 Lightening the Load
Labour-saving technologies and practices for rural women
Published: 2010
Pages: 74

eBook: 9781780440620
Paperback: 9781853396892
Women are central to overcoming rural poverty. They play a critical role in poverty reduction and food security because they are responsible for both production and reproduction. Rural women in developing countries have longer working days than men because of their triple roles as farmers, caretakers of their families and cash earners through income-generating activities and microfinance. In addition, increasing drought and deforestation in many parts of the world make women's workload even more burdensome as they have to walk ever-longer distances to find firewood and clean water. The multiple roles of women can act as an obstacle to development interventions, which often put additional pressure on women's time. Women's heavy workload reduces the time available for participation in project-related activities or affects their ability to care for their families. Ensuring women's access to labour-saving technologies for water, energy and farm-related activities is fundamental, and the need for such technologies is greater than it has ever been before. This timely publication looks back at three decades of experiences in introducing labour-saving technologies and practices to rural women and in combating persistent gender discrimination in access and control. It also takes into account major developments in science, technology and innovation over the last several years and shows they can benefit women.
Prelims (Contents, Preface, Acknowledgements, Acronyms)

1. Lightening the Load
Marilyn Carr
Marilyn Carr is Chief of the Economic Empowerment Section of the United Nations Development Fund for Women. She is a development economist with over 20 years experience in Asia and Africa and specializes in the fields of small enterprise development and technology choice and diffusion.
Maria Hartl Maria Hartl is Technical Adviser for Gender and Social Equity in the IFAD Technical Advisory Division.
Gender, Productive Resources and Agricultural Development in the Urban Area
Olufemi, Damilola Blessing
Adejumo, Olusola Joseph
Journal of Gender and Power, Vol. 14 (2020), Iss. 2 P.85
https://doi.org/10.2478/jgp-2020-0015
[Citations: 0]
Expanding Opportunities: A Framework for Gender and Socially-Inclusive Climate Resilient Agriculture
Huyer, Sophia
Simelton, Elisabeth
Chanana, Nitya
Mulema, Annet Abenakyo
Marty, Edwige
Frontiers in Climate, Vol. 3 (2021), Iss.
https://doi.org/10.3389/fclim.2021.718240
[Citations: 3]
Women's empowerment and their experience to food security in rural Bangladesh
Wei, Wei
Sarker, Tanwne
Roy, Rana
Sarkar, Apurbo
Ghulam Rabbany, Md.
Sociology of Health & Illness, Vol. 43 (2021), Iss. 4 P.971
https://doi.org/10.1111/1467-9566.13273
[Citations: 4]
Closing the Gender Gap in Agriculture
Huyer, Sophia
Gender, Technology and Development, Vol. 20 (2016), Iss. 2 P.105
https://doi.org/10.1177/0971852416643872
[Citations: 53]
Small-scale farming and gender-friendly agricultural technologies: the interplay between gender, labour, caste, policy and practice
Hansda, Regina
Gender, Technology and Development, Vol. 21 (2017), Iss. 3 P.189
https://doi.org/10.1080/09718524.2018.1434990
[Citations: 9]
Transforming Food Systems for a Rising India
Agricultural Technology for Increasing Competitiveness of Small Holders
Pingali, Prabhu
Aiyar, Anaka
Abraham, Mathew
Rahman, Andaleeb
2019
https://doi.org/10.1007/978-3-030-14409-8_9
[Citations: 5]
What happens after technology adoption? Gendered aspects of small-scale irrigation technologies in Ethiopia, Ghana, and Tanzania
Theis, Sophie
Lefore, Nicole
Meinzen-Dick, Ruth
Bryan, Elizabeth
Agriculture and Human Values, Vol. 35 (2018), Iss. 3 P.671
https://doi.org/10.1007/s10460-018-9862-8
[Citations: 46]
Establishing an Evolutionary Learning Laboratory for Improving the Quality of Life of Vietnamese Women in Small-scale Agriculture: Part II - Systemic Interventions
Ha, Tuan M.
Bosch, Ockie J. H.
Nguyen, Nam C.
Systems Research and Behavioral Science, Vol. 33 (2016), Iss. 3 P.341
https://doi.org/10.1002/sres.2349
[Citations: 8]
Tools for Women's Empowerment? The Case of the Forage Chopper for Smallholder Dairy Farmers in Uganda
Kiyimba, Florence Lubwama
(2011)
https://doi.org/10.2139/ssrn.2046017
[Citations: 2]
Transactional Perspectives on Occupation
Occupational Justice's Intents and Impacts: From Personal Choices to Community Consequences
Thibeault, Rachel
2013
https://doi.org/10.1007/978-94-007-4429-5_19
[Citations: 17]
The Role of Smallholder Farms in Food and Nutrition Security
Transforming Smallholder Agriculture to Achieve the SDGs
Abraham, Mathew
Pingali, Prabhu
2020
https://doi.org/10.1007/978-3-030-42148-9_9
[Citations: 18]
Factors influencing technology use by Mayan women in the digital age
Dominguez Castillo, J. Gabriel
Cisneros Cohernour, Edith J.
Barberà, Elena
Gender, Technology and Development, Vol. 22 (2018), Iss. 3 P.185
https://doi.org/10.1080/09718524.2018.1558862
[Citations: 5]