Book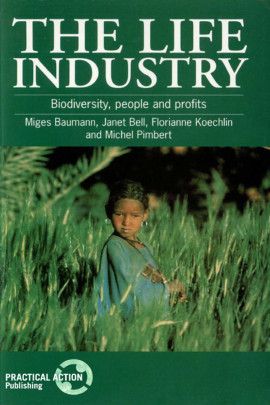 The Life Industry
Biodiversity, people and profits
Published: 1996
Pages: 216

eBook: 9781780446165
Paperback: 9781853393419
There are many contentious issues surrounding biodiversity and different priorities for the many stakeholders involved. This book presents some of the arguments from the leading experts on the issues as well as reflecting the collective learning and debate from grassroots NGOs, journalists, industrialists and policy makers.
Preface vii

1. Introduction (Janet Bell and Michel Pimberi) 1

Part 1 The Tools of Control

2. Science, markets and power 25

2.1 Changes in the genetic supply industry (Jack Kloppenburg) 25

2.2 Genetic engineering and biotechnology in industry

(Janet Belt) 31

2.3 Biodiversity Newspeak (Christine von Weiszacker) 53

3. The power and the glory 69

3.1 The gene - that obscure object of desire (Regine Kollek) 69

3.2 Patenting life - trends in the US and Europe

(Christine Noiville) 76

3.3 The changing face of patents 86

Part 2 The Practice — Bioprospecting or Biopiracy?

4. Green gold 95

4.1 Equity issues in bioprospecting

(Charles Zerner and Kelly Kennedy) 96

4.2 The Body Shop model of bioprospecting (Mark Johnston) 110

4.3 Indigenous peoples' responses to bioprospecting

(Marcus Colchester) 114

4.4 The losers' perspective (Vandana Shiva) 119

5- Human genes - the new resource 137

5.1 The Human Genome Diversity Project 137

5.2 Indigenous peoples' reactions to the HGDP

( Victoria Corpus and Alejandro Argumedd) 145

5.3 Glorification of the genes - genetic determinism and

racism in science (Alan Goodman) 149

Part 3 Which way now?

6.1 Choices 163

6.2 Reversals for diversity - a new paradigm

(Robert Chambers) 173

6.3 Seeds of hope- 185

A vote for conscience over capital 185

Europe's moratorium on BGH 187

A gene bank working with farmers 189

The MASIPAG experience 190

The butterfly rises (Pat Mooney) 192

Appendices

About the authors 195

Acronyms 197

Glossary 199

Organizations 205
From "Burning Library" to "Green Medicine"
Väliverronen, Esa
Hellsten, Iina
Science Communication, Vol. 24 (2002), Iss. 2 P.229
https://doi.org/10.1177/107554702237848
[Citations: 27]
The Gendered Nature of Biodiversity Conservation
Zweifel, Helen
NWSA Journal, Vol. 9 (1997), Iss. 3 P.107
https://doi.org/10.2979/NWS.1997.9.3.107
[Citations: 5]
Business to the rescue: private sector actors and global environmental regimes' legitimacy
Bled, Amandine J.
International Environmental Agreements: Politics, Law and Economics, Vol. 9 (2009), Iss. 2 P.153
https://doi.org/10.1007/s10784-009-9092-z
[Citations: 6]
Konfliktfeld Natur
Biologische Ressourcen und 'Life Politics'
Heins, Volker
Flitner, Michael
1998
https://doi.org/10.1007/978-3-322-95110-6_1
[Citations: 7]
Analysing Conservation—Development Discourses: The Story of a Biopiracy Narrative
Svarstad, Hanne
Forum for Development Studies, Vol. 29 (2002), Iss. 1 P.63
https://doi.org/10.1080/08039410.2002.9666187
[Citations: 14]
Political undercurrents of modern ecology
Haila, Yrjö
Science as Culture, Vol. 7 (1998), Iss. 4 P.465
https://doi.org/10.1080/09505439809526522
[Citations: 13]
Global environmental politics and competition between nation-states: on the regulation of biological diversity
Görg, Christoph
Brand, Ulrich
Review of International Political Economy, Vol. 7 (2000), Iss. 3 P.371
https://doi.org/10.1080/09692290050173999
[Citations: 20]
'Organised irresponsibility': Contradictions in the Australian government's strategy for GM regulation
Salleh, Ariel
Environmental Politics, Vol. 15 (2006), Iss. 3 P.399
https://doi.org/10.1080/09644010600627717
[Citations: 10]
The Alienation of Body Tissue and the Biopolitics of Immortalized Cell Lines
Lock, Margaret
Body & Society, Vol. 7 (2001), Iss. 2-3 P.63
https://doi.org/10.1177/1357034X0100700204
[Citations: 71]
Konfliktfeld Natur
Hybride Wissensformen
Hayden, Cori
1998
https://doi.org/10.1007/978-3-322-95110-6_9
[Citations: 1]
Visualizing Biodiversity: The Role of Photographs in Environmental Discourse
SeppÄNen, Janne
VÄLiverronen, Esa
Science as Culture, Vol. 12 (2003), Iss. 1 P.59
https://doi.org/10.1080/0950543032000062263
[Citations: 30]