Book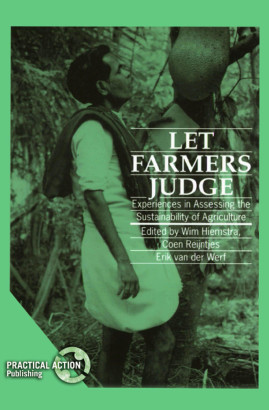 Let Farmers Judge
Experiences in assessing the sustainability of agriculture
Published: 1992
Pages: 216

eBook: 9781780445304
Paperback: 9781853391491
A collection of reports from researchers and fieldworkers on the effectiveness of innovations in smallholder farming systems. Emphasis is given to farmer participation and assessment and the use of new technologies (Published in the ILEIA Readings in Sustainable Agriculture series).
Preface v

Acknowledgements vii

Part I: Measuring Sustainability 1

Larry Harrington: 2

Measuring sustainability: Issues and alternatives

Part II: What Criteria to Use? 17

J.C. Zadoks: 19

The costs of change in plant protection

Douglas Horton: 29

Lessons from the Mantaro Valley Project, Peru

Christine Pahlman: 43

Soil erosion? That's not how we see the problem!

Allan Low: 49

On-farm research and household economics

Part III: Aspects of Economic Assessment 63

Floris van der Pol: 65

Soil mining: An unseen contributor to farm income in southern Mali

Michael Stocking and Nick Abel: 77

Labour costs: A critical element in soil conservation

Charles Francis: 87

Sustainability issues with intercrops

Pierre Morion: 97

Crop yields and the small-scale family farm economy:

An example from the central Andes

Anne Floquet: 102

Farmers' assessment of ecological cropping techniques

Part IV: Comparing Farming Systems 113

Pedro Sanchez and Jose Benites: 115

Low-input cropping for acid soils of the humid tropics

SusannaHecht: 129

Indigenous soil management in the Latin American tropics:

Neglected knowledge of native people

Hilario Padilla: 143

High and stable crop yields: The Bontoc rice terraces

J. Palmer: 151

The sloping agricultural land technology experience

Boudewijn van Elzakker, Rob Witte and Jan-Diek van Mansvelt: 165

Benefits of diversity: Organic coffee growing in Mexico

Erik van der Werf: 175

Can ecological agriculture meet the Indian farmer's needs?

M.P. Bimbao, A.V. Cruz andI.R. Smith: 187

An economic assessment of rice-fish culture in the Philippines

Castillano dela Cruz, Clive Lightfoot and R.C. Sevilleja: 195

A user perspective on rice-fish culture in the Philippines

Further Reading 205

Checklist of Criteria for Assessing Agricultural Technology 206
Wim Hiemstra
Wim Hiemstra is International Programme Coordinator at ETC-COMPAS, the Netherlands.
Food Insecurity, Soil Degradation and Agricultural Markets in West Africa: Why Current Policy Approaches Fail
Koning, Niek
Heerink, Nico
Kauffman, Sjef
Oxford Development Studies, Vol. 29 (2001), Iss. 2 P.189
https://doi.org/10.1080/13600810124747
[Citations: 15]
Agricultural extension in sub-Saharan Africa: Extension typologies and issues for the future
Venkatesan, V.
Knowledge, Technology & Policy, Vol. 9 (1997), Iss. 4 P.43
https://doi.org/10.1007/BF02912436
[Citations: 1]
Legume-Based Technologies for African Savannas: Challenges for Research and Development
Weber, G.
Biological Agriculture & Horticulture, Vol. 13 (1996), Iss. 4 P.309
https://doi.org/10.1080/01448765.1996.9754790
[Citations: 21]
Aquaculture and Sustainability through Integrated Resources Management
Lightfoot, Clive
Bimbao, Mary Ann P.
Dalsgaard, Jens Peter T.
Pullin, Roger S.V.
Outlook on Agriculture, Vol. 22 (1993), Iss. 3 P.143
https://doi.org/10.1177/003072709302200303
[Citations: 56]