Book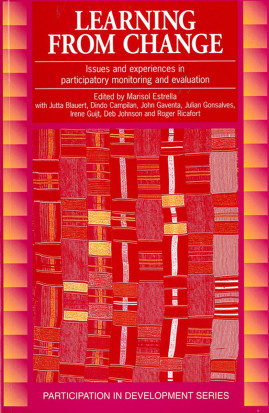 Learning from Change
Issues and experiences in participatory monitoring and evaluation
Published: 2000
Pages: 288

eBook: 9781780441214
Paperback: 9781853394690
Learning from Change provides an overview of the common themes and experiences in participatory approaches to monitoring and evaluation across different institutions and sectors. It explores conceptual, methodological, institutional and policy issues which need to be addressed in order to enrich our understanding and practice of Participatory Monitoring and Evaluation (PM&E). The book is in three sections. Section One provides a general overview of PM&E, synthezising literature surveys and regional reviews of PM&E practice around the globe. Section Two presents case studies that illustrate the diverse range of settings and contexts in which participatory monitoring and evaluation is being applied. Section Three raises the key issues and challenges arising from the case studies and the workshop proceedings, and proposes areas for future research and action. Learning from Change will be of significance to readers interested in processes of participatory development, as well as to all development professionals, including fieldworkers, practitioners, researchers and policy makers.
List of figures

List of tables

Glossary of acronyms and abbreviations

Foreword

Preface

Acknowledgements

Introduction

1 Learning from change

MARISOL ESTRELLA

1 Methodological innovations

2 Exploring visions: Self-monitoring and evaluation processes

within the Nepal-UK Community Forestry Project 15

CLARE HAMILTON, RAJ KUMAR RAI,

RAM BAHADUR SHRESTHA, MAKSHA MAHARJAN,

LEELA RASAILY and SIBONGILE HOOD

3 Seeking local indicators: Participatory stakeholder evaluation

of farmer-to-farmer projects, Mexico 32

JUTTA BLAUERT, with EDUARDO QUINTANAR

4 Adapting participatory methods to meet different stakeholder

needs: Farmers' experiments in Bolivia and Laos 50

ANNA LAWRENCE, GRAHAM HAYLOR, CARLOS BARAHONA,

ERIC MEUSCH

5 Experimenting with participatory monitoring in north-east

Brazil: The case of AS-PTA's Projeto Paraiba 68

PABLO SIDERSKY and IRENE GUIJT

Part 2 Learning with communities

6 Strengthening citizen participation and democratization in the

Philippines: ELF'S impact evaluation 83

ROY V. ABES

7 Monitoring and evaluating local development through

community participation: The experience of the Association of

Indigenous Cabildos of Northern Cauca, Colombia 95

RUBEN DARIO ESPINOSA ALZATE

8 Monitoring local development with communities: The SISDEL
Marisol Estrella
Marisol Estrella is currently a Project Coordinator under the Disaster Risk Reduction portfolio of the United Nations Environment Programme (UNEP), being managed by the Post-Conflict and Disaster Management Branch (PCDMB) based in Geneva, Swizerland. She has worked with local NGOs in the Philippines and consulted with the Asian Development Bank, Oxfam, GTZ and the Institute of Development Studies at Sussex University.