Book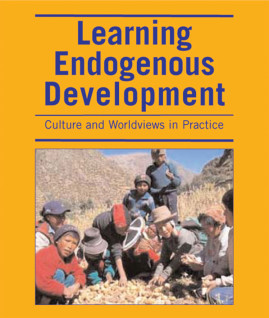 Learning Endogenous Development
Building on Bio-Cultural Diversity
Published: 2007
Pages: 264

eBook: 9781780445298
Paperback: 9781853396649
Endogenous development places the major importance in working with local communities on using people's own resources, strategies, and initiatives as the basis for their development. It considers not only the material, but also the socio-cultural and the spiritual resources of people, in order to broaden the options when formulating appropriate development paths, without romanticizing people's traditional worldviews and practices. This book provides ideas, guidelines, and examples of how to put endogenous development into practice. It also shows how field staff can be helped to learn, and how training or learning activities can best be organized, to support endogenous development.
Acknowledgements

Foreword Rigoberta Menchu

Introduction

Part 1: Endogenous Development

1. Endogenous Development: A Synopsis

Part 2. Practicical Cases of Supporting Endogenous Development

2. Supporting Endogenous Development, An Alternative Approach

3. Understanding Local Worldviews, Learning, Action and Institutions

4. Visioning and Planning

5. Supporting Local Learning

6. Supporting Local Action

7.Strengthening Local Institutions

8. Creating an Enabling Environment

Part 3: Learning Endogenous Development

9. Learning Strategies

10. Selected Learning Forms

About the Contributors

Glossary

Resources

Index
Alternatives to Development in Surfing Tourism: A Diverse Economies Approach
Ruttenberg, Tara
(2022) P.1
https://doi.org/10.1080/21568316.2022.2077420
[Citations: 1]
A call to focus on farmer intuition for improved management decision-making
von Diest, Saskia G
Wright, Julia
Samways, Michael J
Kieft, Henk
Outlook on Agriculture, Vol. 49 (2020), Iss. 4 P.278
https://doi.org/10.1177/0030727020956665
[Citations: 1]
Integrated Community-Managed Development
The Failure of Financial-Economic Policies to Reduce Global Poverty
Saefullah, Kurniawan
2019
https://doi.org/10.1007/978-3-030-05423-6_3
[Citations: 0]
Sustainable Community Development: A Brief Introduction to the Multi-Modal Systems Method
de Britto, Christian Maciel
Systemic Practice and Action Research, Vol. 24 (2011), Iss. 6 P.533
https://doi.org/10.1007/s11213-011-9206-8
[Citations: 0]
The Shipibo-Conibo: Culture and Collections in Context
Wali, Alaka
Claire Odland, J.
Belaunde, Luisa Elvira
Feldman, Nancy Gardner
Chocano, Daniel Morales
Mujica-Baquerizo, Ana
Weber, Ronald L.
Fieldiana Anthropology, Vol. 45 (2016), Iss. 1 P.1
https://doi.org/10.3158/0071-4739-45.1.1
[Citations: 18]
The relevance of connecting sustainable agricultural development with African philosophy
Boogaard, Birgit K.
South African Journal of Philosophy, Vol. 38 (2019), Iss. 3 P.273
https://doi.org/10.1080/02580136.2019.1648124
[Citations: 4]
Re-imagining Communication in Africa and the Caribbean
Back to the Village: Integrating Folk Media into Rural Food Security Communication in Ethiopia
Nigussie, Hagos
2021
https://doi.org/10.1007/978-3-030-54169-9_15
[Citations: 1]
From pay‐out to participation: Indigenous mining employment as local development?
Holcombe, Sarah
Kemp, Deanna
Sustainable Development, Vol. 28 (2020), Iss. 5 P.1122
https://doi.org/10.1002/sd.2063
[Citations: 5]