Book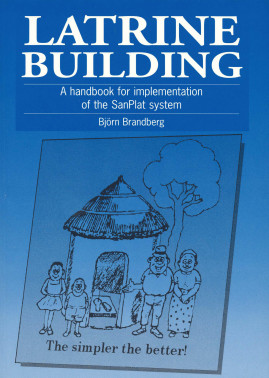 Latrine Building
A handbook to implementing the Sanplat system
Published: 1997
Pages: 176

eBook: 9781780445281
Paperback: 9781853393068
This book describes a practical solution to the lack of basic sanitation facilities in the form of a 'Sanplat': a specially designed concrete platform which can be installed easily in rural latrines to improve sanitation and safety. It has footrests to help users find the right position to avoid fouling the latrine; the drop hole is large enough to use comfortably and small enough to be completely safe, even for a child; and it is easy to keep clean. The latrines described here can be built using locally available materials and skills, and are affordable and appropriate to the needs of rural communities.
Foreword

1 An introduction to better latrine building

2 Common types of latrine

3 Design and construction

4 Common latrine building problems and solutions

5 SanPlat making

6 Moulds for SanPlat making

7 ' Slab casting with integrated SanPlats

8 Handcarts

9 How to implement a latrine building programme

10 Promotion and hygiene education

11 How to work with people

12 Planning, monitoring and evaluation

Appendix 1 Latrine design

Appendix 2 Casting the small SanPlat using the all-in-one plastic mould

Appendix 3 Forms for sanitation programme management

Bibliography
Bjorn Brandberg
Bjorn Brandberg is an architect, building engineer and sanitation advisor. He has specialized in development, planning and troubleshooting in low-cost water and sanitation programmes.
Supply and Demand for Improved Sanitation: Results from Randomized Pricing Experiments in Rural Tanzania
Peletz, Rachel
Cock-Esteb, Alicea
Ysenburg, Dorothea
Haji, Salim
Khush, Ranjiv
Dupas, Pascaline
Environmental Science & Technology, Vol. 51 (2017), Iss. 12 P.7138
https://doi.org/10.1021/acs.est.6b03846
[Citations: 10]
Emergency sanitation: developing criteria for pit latrine lining
Reed, Brian
Torr, Dominic
Scott, Rebecca
Waterlines, Vol. 35 (2016), Iss. 2 P.194
https://doi.org/10.3362/1756-3488.2016.016
[Citations: 1]
Chiengi District, Zambia Open Defecation Free After 1 Year of Community-Led Total Sanitation
Winters, Benjamin
Osbert, Nicolas
Tiwari, Amy
Chikobo, Cade
Larsen, David A.
Crooks, Philippa
Muleya, Sarah
Ngulube, Vernon
Hoehne, Alexandra
Zimba, Rabson
Manangi, Abel
Mukosha, Leonard
Lukama, Chinyama
The American Journal of Tropical Medicine and Hygiene, Vol. 95 (2016), Iss. 4 P.925
https://doi.org/10.4269/ajtmh.16-0210
[Citations: 8]
Field Guide to Environmental Engineering for Development Workers
Latrines
2009
https://doi.org/10.1061/9780784409855.ch20
[Citations: 1]