Book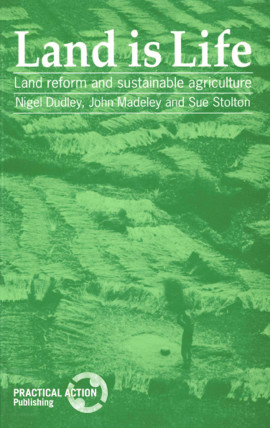 Links the issues of sustainable agriculture and land reform. When farmers own their land they are likely to produce more food and to farm sustainably. Large increases in food output occur when farmers are given land under agrarian reform programmes.
FOREWORD Nigel Dudley, John Madeley and

Sue Stolton ix

1 Stabilization of Agricultural Resources 1

World hunger, land reform and organic

agriculture Nigel Dudley 1

Concept, requirements and measures to ensure

sustainable agricultural development Uwe Otzen 43

2 Latin America and the Caribbean 59

Brazil: Agrarian reform in Brazil Lino de David 59

Colombia: Save the rainforests — give them away

Peter Bunyard 70

Dominican Republic: Slowly does it; learning and

teaching about agriculture Mark Feedman 77

3 Africa 83

Overview Mohamed Suliman 83

Zimbabwe: Issues arising from the Land

Resettlement Programme John Cusworth 89

Namibia: Land reform — who will be the

beneficiaries? Martin Adams 102

4 Asia 107

India: Land rights in the villages of India

VithalRajan 107

Philippines: Land reform and soil conservation

RomyTiongco 117

Thailand: Land security and traditional agriculture

Larry Lohmann 120

Indonesia: Problems of land-use policy

Tadjudin Djuhendi 128

S Europe 133

Organic farming in Western Europe: which

way forward? Lawrence Woodward 133

The Norwegian GATT campaign Helge Christie 137

Organic farming in Eastern Europe Nigel Dudley 139

APPENDIX 145

REFERENCES 152
John Madeley John Madeley is editor of International Agricultural Development.
Sue Stolton Sue Stolton works for the Equilibrium research organization.
Environmental Politics in New Zealand/ Aotearoa: Clashes and Commonality Between Māoridom and Environmentalists
GILLESPIE, ALEXANDER
New Zealand Geographer, Vol. 54 (1998), Iss. 1 P.19
https://doi.org/10.1111/j.1745-7939.1998.tb00518.x
[Citations: 8]