Book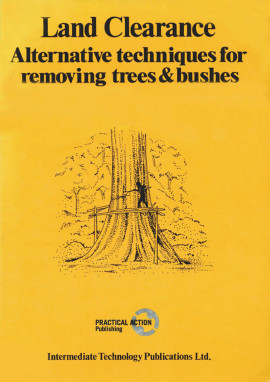 Land Clearance
Alternative Techniques for Removing Trees and Bushes
Published: 1981
Pages: 72

eBook: 9781780444123
Paperback: 9780903031776
This publication aims to give those not familiar with the subject of land clearance a general idea of the range of techniques and equipment available. It does not cover any aspect in detail but aims to advise those who may occasionally have to administer land clearance of the different methods that could be used for removing trees and bushes.
ACKNOWLEDGEMENTS ii

PREFACE 1

INTRODUCTION 2

PLANNING LAND CLEARANCE " 6

APPROACHES TO LAND CLEARANCE 10

TECHNIQUES AND EQUIPMENT 12

KILLING STANDING TREES AND BUSHES 14

Fire 15

Biological control 17

Ring barking 18

Chemical treatment of individual trees &

bushes with arboricides 20

Mistblowers 23

Aerial spraying 25

UPROOTING WHOLE TREES AND BUSHES 26

Hand uprooting tools 27

Hand winch 29

Draught animals 31

Tractor (direct pull) 34

Tractor winch 36

Tractor-mounted tree extractor 38

Bulldozing 40

Two tracklayers with chain 43

CUTTING THROUGH THE TRUNK AT GROUND LEVEL 44

Hand cutting tools 45

Hand-held clearing saw 47

Chainsaw 49

Tractor-mounted slasher 51

Tracklayer with roller-crusher 53

Tracklayer with shearing blade 55

REMOVING STUMPS 57

Hand digging tools 58

Root hook 60

Explosives & burning . 62

Tractor-mounted stump extractor 63

Tractor-mounted stump chipper 64

Bulldozers, rakes and root ploughs 66

LAND CLEARANCE AT THREE LEVELS OF INVESTMENT 68

FURTHER READING 71
Rob Hitchings
Rob Hitching's business, ApT Design and Development, based in Gloucestershire, England, designs and makes a wide variety of village-scale equipment for workshops in both developing and industrialised countries.