Book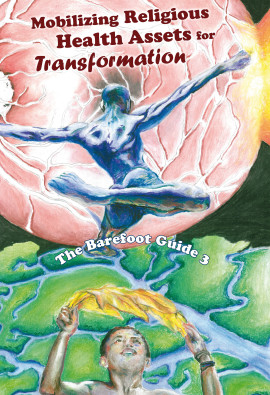 Health, freedom and social justice cannot be separated. Anyone who loves a neighbourhood, a nation or a small planet enough to work for its future, inevitably measures success by its health and well-being. Health is one way to describe our capacity to be alive and to play our role as members of families and neighbourhoods, indeed as citizens. How long do the neighbours live, and with what degree of freedom from the burden of illness? Do they have water, food, shelter and access to medical services? How does one choose life for the community? How do we as leaders make sure that our lives are about life and health?

The journey this Barefoot Guide will take you on is a response to those questions. The connection between religion and public health is important. For example in Africa, depending on the country, anything between 20 and 70% of public healthcare is delivered through religious institutions or groups. This BFG focuses on understanding and working with that reality. Religious assets for health are everywhere, they matter to a lot of people, and they can be mobilized for the health of all.

It has chapters on: thinking differently about the health of the public; revisiting the history of the link between religion and public health; working with and mobilizing religious health assets; supporting the 'leading causes of life'; understanding 'health worlds' and the strengths of 'people who come together'; boundary leadership; thinking about systems; and 'deep accountability'.

The Barefoot Guide 3 explains how you can use these ideas to take up the challenge of health in your own communities -- whether you consider yourself especially religious or not. It is an invitation to take a journey, one whose goal is a better life for all.

"The Barefoot Guides use simple methodologies that allow people to bring the best of their experiences to share through the book. They show that all we need is to be awake to learn, to create, to innovate and by the end of day we can create a transformational approach. All of us can do it, even those who do not know they can, truly they can do it too… all of us can change lives!"
Mário Albino Machimbene, KEPA, Maputo city, Mozambique

"This exceptional series is hugely accessible yet deeply rooted in solid theory and extensive practice across a wide range of contexts and fields. Expect from it something truly unique in its combination of insight, reflection, experience and highly usable mixed text/visual presentation. It is not "dumbed down." I have seen it bite as deeply at high academic and professional level as well as at grassroots community leadership level -- an astonishing achievement worth honouring."
James R. Cochrane, Emeritus Professor, Religious Studies, University of Cape Town, and Adjunct Professor, Dept of Social Sciences and Health Policy, Wake Forest School of Medicine, USA.

"The Barefoot Guides are chock-full of practical wisdom. It has given more legitimacy to a way of working that has always felt 'true' and 'right' to me intuitively and that I have seen the effectiveness of in action."
Tana Paddock, Organization Unbound, Cape Town, South Africa

"The Barefoot Guide Connection has a unique and truly transformational approach to collaboration, learning and facilitating social, transformational change across borders."
Tobias Troll, Director, EDGE Europe at EDGE Funders Alliance, Brussels, Belgium

"The Barefoot Guides are an important reference for our international students in development studies. Crossing the border between academia and practitioners, they repeatedly prove to be a rich source of inspiration for those working with local communities and grassroots organizations"
Dr Kees Biekart, International Institute of Social Studies (ISS) of Erasmus University, The Hague, Netherlands

"The Barefoot Guides are a wonderful contribution to open access knowledge, grounded on a great depth of experience and horizontal learning from across the world."
Samantha Button, Maliasili Initiatives, Tanzania
The 3rd Barefoot Guide Writers' Collective
The Barefoot Connection is a global team of collaborating practitioners and activists from the Community Development Resource Association (South Africa), Voluntary Service Overseas (Nepal, Cameroon, Canada), ActionAid (Ghana, India), the Treatment Action Campaign (South Africa), the Church Land Programme (South Africa), and independent practitioners. Valuable contributions were also received from The Democracy Development Programme (South Africa) and Oxfam UK.