Book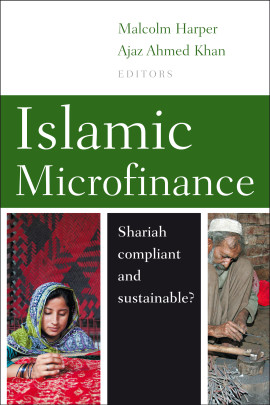 Islamic Microfinance
Shari'ah compliant and sustainable?
Malcolm Harper, Ajaz Ahmed Khan
Published: 2017
Pages: 220

eBook: 9781780449555
Paperback: 9781853399565
Hardback: 9781853399558
Microfinance institutions are today reaching hundreds of millions of clients throughout the global South, but the special needs of Muslim borrowers and savers, who wish to avoid any form of fixed interest, are badly served. The purpose of Islamic Microfinance is to introduce readers to the tenets of Islamic finance and how they are applied to microfinance. It questions why, when mainstream Islamic finance is growing rapidly, are efforts to reach poor Muslim customers so far behind? Can Islamic microfinance as it grows maintain its original spirit of fairness, transparency and sharing, principles that seem to have been almost forgotten in the world of conventional microfinance?
The book contains fifteen detailed case studies of individual Islamic microfinance institutions, which include examples of successful and unsuccessful clients, and financial data about the performance of the institutions themselves. The case studies include institutions from Yemen, Afghanistan, Pakistan, India and Bangladesh, Indonesia, Sudan, Somalia, Kyrgyzstan, Palestine, and Kosovo.
The case study institutions are between them using a wide range of Shari'ah-compliant financing methods, which include pure interest-free loans, profit-sharing products and a variety of other tools, including micro-savings as well as micro-debt. In the accompanying commentary the editors critically examine the performance of the fifteen institutions and demonstrate how Islamic methods can efficiently satisfy the needs of some types of client but not all. It asks which types of products are affordable and beneficial, for which purposes and for whom.
This book is essential reading by all those interested in microfinance and development in the Muslim world, including researchers and students, 'practitioners' of microfinance, NGOs and multi-lateral and bi-lateral development agencies, and staff of development banks.

Section Title
Page
Action
Price

Cover

Cover

Title Page

iii

Copyright Page

iv

Table of Contents

v

List of figures, tables, and boxes

vii

Acknowledgements

xi

About the editors

xii

Preface

xiii

1. Islamic financing principles and their application to microfinance

1

Part I: Qard hasan: pure Islamic microfinance

15

2. Is it possible to provide qard hasan and achieve financial self-sustainability? The experience of Akhuwat in Pakistan

17

Part II: The predominance of murabaha

33

3. Pioneering Islamic microfinance in Kosovo: the experience of START

35

4. The Islami Bank Bangladesh's Rural Development Scheme: 'need-based banking rather than greed-based micro-banking'?

47

5. Providing an Islamic alternative: the experience of Mutahid in Afghanistan

61

6. The murabaha syndrome: Reef and Islamic microfinance in Palestine

71

7. The experience of Kaah Islamic Microfinance Services in Somalia

83

Part III: Institutions providing a range of Islamic financing arrangements

93

8. Al Amal Microfinance Bank in Yemen: financial services in times of war

95

9. The experience of Kompanion-Invest in the Kyrgyz Republic

107

10. Ebdaa Microfinance Bank: musharaka for small-scale farmers in Sudan

115

11. The Port Sudan Association for Small Enterprise Development in Sudan: an NGO 'project' and now a profitable business

123

Part IV: Institutions that also promote (some) profit and loss sharing

133

12. BASIX in Mewat, India: an Islamic experiment by a major Indian microfinance institution

135

13. MicroDahab in Somalia: a subsidiary of Africa's largest remittance company

147

14. The Al Khair Co-operative Credit Society: a co-operative Islamic microfinance institution

155

15. Profit and loss sharing with smallholder farmers in Indonesia: the experience of PT Vasham Kosa Sejahtera

165

16. Co-operative Islamic microfinance: Daarul Qur'an BMT from Jakarta, Indonesia

173

17. What do the cases tell us?

185

Index

203

Back Cover

Back Cover
Malcolm Harper Malcolm Harper taught at Cranfield School of Management until 1995, and since then has worked mainly in India. He has published on enterprise development and microfinance. He was Chairman of Basix Finance from 1996 until 2006, and is Chairman of M-CRIL, the microfinance credit rating agency.
Ajaz Ahmed Khan is Senior Microfinance Adviser with CARE International. He holds a PhD in Development Economics and has extensive experience of working in a diverse range of countries in Latin America, Eastern Europe, Asia and Africa. He has written widely on microfinance, Islamic microfinance in particular, as well as more generally on faith and development.