Book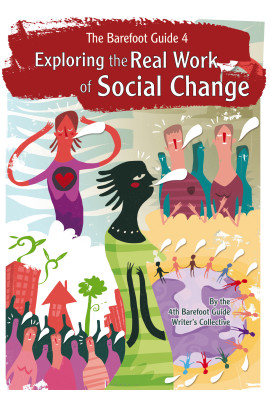 This is a book about social change practices from many countries. It contains a variety of stories, analyses, and ideas. It also has many poems and illustrations to illuminate and enhance the text.

For activists, civil society leaders, practitioners and students, this is not a book of easy answers, but one of experiences, learnings and questions, all asking "What is the real work of social change?" We have not attempted to provide "best practice models", but rather something to be learned from, to deepen our questions, and to be more thoughtful in our practice.

You are invited to sample whatever catches your eye, whatever speaks to your circumstances and need. We hope that it will provide ideas and inspiration to many people working to bring about or to support processes of social change that can meet the challenges we face.
The Barefoot Guides are created by writers' collectives drawn from the Barefoot Guide Connection -- a global and local community of social change leaders and practitioners, from many countries, sharing diverse practices to deepen and develop approaches and initiatives to contribute to a changing world.

INTRODUCING OUR STORY...
Two worlds One planet
CHAPTER 1
Histories of social change: from way back into the future…
Working with Questions:
What is Social Change and Resistance to Change?
CHAPTER 2
Start counting from one:
Individuals and social change
Working with Questions:
How do we See and Work with Power?
CHAPTER 3
Creating space and time for learning to enable social change
Working with Questions:
What is Horizontal Learning and how can it
Contribute to Social Change?
CHAPTER 4
How communities change: from despair to possibility...
Working with Questions:
What is our primary role as development practitioners?
CHAPTER 5
Through the gathering storms: From community to societal change
Working with Questions:
What social change approaches and strategies work best?
CHAPTER 6
Rigorous humility: Measuring and evaluating the real work of social change
Working with Questions:
What Kinds of Organizations and Leadership do we Need to Face the Future?
CHAPTER 7
Another World is Possible and is Already Happening:
Towards a Great Transition through a Global Citizens Movement
Working with Questions:
Who is Participating in whose Process?
References by Chapter

"The Barefoot Guides are chock-full of practical wisdom."
Tana Paddock, Organization Unbound, Cape Town, South Africa

"The Barefoot Guides are an important reference for our international students in development studies."
Dr Kees Biekart, International Institute of Social Studies (ISS), The Hague, Netherlands

The Barefoot Guide Writers' Collective
The Barefoot Connection is a global team of collaborating practitioners and activists from the Community Development Resource Association (South Africa), Voluntary Service Overseas (Nepal, Cameroon, Canada), ActionAid (Ghana, India), the Treatment Action Campaign (South Africa), the Church Land Programme (South Africa), and independent practitioners. Valuable contributions were also received from The Democracy Development Programme (South Africa) and Oxfam UK.