Book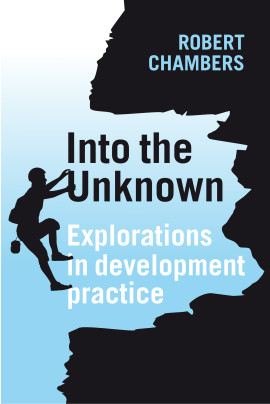 Into the Unknown
Explorations in development practice
Published: 2014
Pages: 160

eBook: 9781780448220
Paperback: 9781853398230
Hardback: 9781853398223
Development is about change, and lives immersed in researching international development should be prepared for exploration, for discovering the unexpected, and for questioning the direction that 'development' is taking. Robert Chambers reflects on experiences, which led him to examine personal biases and predispositions, and he challenges readers to examine the pervasive significance of power in forming and framing knowledge. Into the Unknown reflects on the journey of learning, and encourages readers to learn from observation, curiosity, critical feedback, play and fun. Participatory Rural Appraisal (PRA) and Community-Led Total Sanitation (CLTS) have benefited from sharing practice, innovations and experience through participatory workshops. This book includes tips on how to lead and convene workshops that can co-generate knowledge and have an influence. Into the Unknown will be of interest to development professionals, including academics, students, NGO workers and the staff of international agencies.
Prelims (Preface/ Acknowledgements/ Abbreviations and acronyms)
Part I Exploring experience
1 Critical reflections of a development nomad
2 Power, knowledge and policy influence: reflections on an experience
3 Ignorance, error and myth in South Asian irrigation: critical reflections on experience
Part II Exploring learning
4 Learning about learning
5 Participatory workshops: teaching, learning and large groups
6 Exploring the co-generation of knowledge: critical reflections on PRA and CLTS
Part III Into the new unknown
7 Exploring for our faster future world
Back Matter (References/ Index)

Robert Chambers
Professor Robert Chambers is a research associate of the Institute of Development Studies, Sussex, UK, which has been his base since 1969 with periods in other countries. His educational background is in natural sciences, history and public administration. His main administrative and research experience in development has been in East Africa and South Asia. He is widely recognized as one of the main driving forces behind the great surge of interest in the use of Participatory Rural Appraisal around the world. He has been a Fellow at the Institute of Development Studies since 1972 and is an author, co editor and contributor of many books.