Book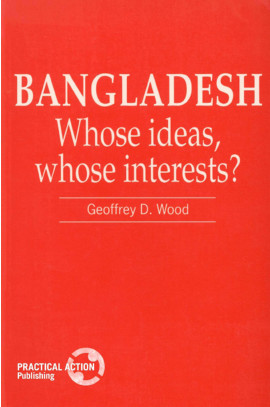 Bangladesh
Whose ideas, whose interests?
Published: 1994
Pages: 600

eBook: 9781780444543
Paperback: 9781853392467
This book addresses, in the Bangladesh context, the fundamental processes of agrarian structural change and their gender implications, opportunities for wider participation by landless men and women in agricultural growth; the social implications of rural works and fish culture programmes; rural institutions and poverty alleviation; and broad institutional questions arising from the interaction between state, market and community (including NGOs) concerning corruption, good governance and the franchise state. Throughout the volume there is long-range, but grounded speculation which connects processes of 'urbanisation' to patterns of land use and shifting sets of opportunities for poor actors. The author concludes by offering eleven working principles as a guide through the development maze of poverty alleviation in Bangladesh.
Acknowledgements vii
Introduction: Understanding and Practice 1
PARTI
CLASS FORMATION AND UNIVERSAL RURAL
DEVELOPMENT MODELS
Chapter 1 Exploitation and the Rural Poor 31
Chapter 2 Rural Class Formation in Bangladesh 1940-80 100
Chapter 3 Rural Development in Bangladesh: Whose Framework? 127
Chapter 4 Women and Gender 152
PART II
LANDLESS PARTICIPATION IN AGRICULTURAL GROWTH
Chapter 5 Rural Employment and Patterns of Agricultural
Development 163
Chapter 6 The Rural Poor in Bangladesh: A New Framework? 172
Chapter 7 Provision of Irrigation Services by the Landless:
An Approach to Agrarian Reform in Bangladesh 193
Chapter 8 The Social Framework of Rural Exchange in Bangladesh 215
Chapter 9 Agrarian Entrepreneurialism in Bangladesh 233
PART III
RURAL WORKS: DEVELOPMENT OR WELFARE
Chapter 10 Landless Labour Participation and Mobilisation
in Rural Works Programmes 259
Chapter 11 Targets Strike Back—Rural Works Claimants
in Bangladesh 290
vi Bangladesh: Whose Ideas, Whose Interests?
Chapter 12 Rural Infrastructure and Social Relations: The Intensive
Rural Works Programme in Bangladesh 309
Chapter 13 Plunder without Danger: Avoiding Responsibility in Rural
Works Administration in Bangladesh 325
PART IV
FISH AND POVERTY
Chapter 14 Off the Page and into the Pond: Fish Extension Strategies 341
Chapter 15 Open Water Bodies and Capture Fishery:
The Poverty of Policy 384
PARTV
STRATEGIES WITH THE POOR
Chapter 16 Government Approaches towards the Rural Poor
in Bangladesh 403
Chapter 17 Sirs and Sahibs: Government and Technical Assistance
Relations in Rural Development Projects 428
Chapter 18 Philosophies of Economic Change: Three EIG models 475
Chapter 19 NGOs and the Theory of Struggle 484
Chapter 20 Target Groups and the Resource Profile Approach 490
PART VI
GOOD GOVERNANCE AND THE FRANCHISE STATE
Chapter 21 Parallel Rationalities in Service Provision: The General Case
of Corruption 519
Chapter 22 States without Citizens: The Problem of the Franchise State 541
Conclusion: Strategic Dilemmas 557
Bibliography 565
Glossary of Non-English Words 577
Acronyms 580
Index 583