Book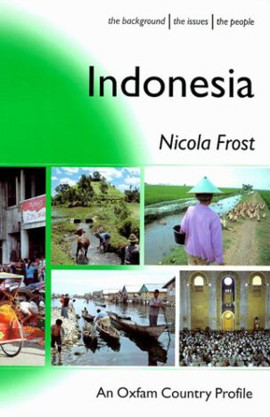 Indonesia
Published: 2002
Pages: 96

eBook: 9780855987770
Paperback: 9780855984816
This outstanding series provides concise and lively introductions to countries and the major development issues they face. Packed full of factual information, photographs and maps, the guides also focus on ordinary people and the impact that historical, economic and environmental issues have on their lives.
* Introduction

* Pre-history to post-colony: Indonesia until 1998

* Suharto's New Order The economy in crisis

* Reformasi and after

* Unity in diversity?

* Agriculture The struggle for land and resources

* Livelihoods away from the land

* Indonesia in conflict: the end of the nation?

* The future of Indonesian democracy

* Dates and events

* Facts and figures

* Further reading

* Acknowledgements

* Oxfam in Indonesia

* Index
Nicola Frost
She has a long-term interest in the ethnography of Maluku, eastern Indonesia, especially issues relating to local forms of authority, community politics, and relations between people and state bodies in a peripheral region. Her doctoral thesis concentrated on Indonesian migrant organisations in Sydney, Australia, and includes work with migrants from Maluku both during and after the conflict which began in 1999.
The Role of the Public Bureaucracy in Policy Implementation in Five ASEAN Countries
The role of the public bureaucracy in policy implementation in five ASEAN countries: a comparative overview
Quah, Jon S. T.
2016
https://doi.org/10.1017/CBO9781316340653.003
[Citations: 1]
The Potential Advantages Of Utilizing Venacular Language In Early Education In Papua As A Bridge To The Indonesian National Educational System
Sumule, Leonard
Iheanyi-Igwe, Agam
International Journal of Indonesian Philosophy & Theology, Vol. 1 (2020), Iss. 1 P.14
https://doi.org/10.47043/ijipth.v1i1.1
[Citations: 0]
Risk, Shocks, and Human Development
Social Capital and Crisis Coping in Indonesia
Ha, Wei
2010
https://doi.org/10.1057/9780230274129_12
[Citations: 1]