Book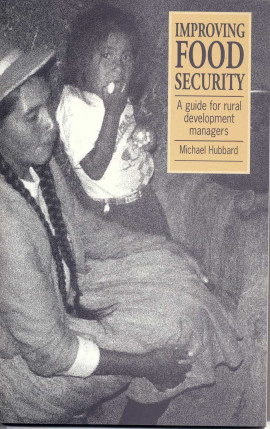 Improving Food Security
A guide for rural development managers
Published: 1995
Pages: 160

eBook: 9781780445182
Paperback: 9781853393112
In many parts of the world, food insecurity and nutritional risk is often greater for females than for males, in infancy, in parenthood (particularly during pregnancy, nursing and as single parents), and in old age. Further, women are usually the key decision-makers in child nutrition. Therefore a substantial part of the challenge in improving household food security involves raising the incomes and education of disadvantaged women. For policy makers and students as well as rural development managers and others with an interest in food security, Improving Food Security discusses in a practical way the participative assessment of malnutrition and food security problems, how to improve nutrition, food and livestock markets, water supplies, finance, and co-operation between NGOs and governments, as well as the importance of strengthening local preparedness for famine prevention.
Preface vii

1. PLIGHT AND POWER OF THE RURAL

MANAGER 1

The person in the middle 1

What the rural manager needs to know about food 2

security

2. ASSESSING FOOD SECURITY IN THE LOCALITY 7

Local food security and nutrition 7

Carrying out a local food security and nutrition audit 12

A local food security strategy 18

Summary 21

3. NUTRITION, HEALTH AND DISEASE 22

Nutrition priorities in rural areas 23

Finding out whether there is a nutrition problem in the 26

area

Designing programmes to improve nutrition 33

Summary 38

4. FOOD SUPPLIES AND PRICES 39

State and market 39

Techniques for finding out how well local food markets 41

work

What can be done to overcome problems 50

Summary 61

5. CREATING INCOMES AND EMPLOYMENT 63

The changing rural employment problem 63

Why government and NGOs should be involved in 63

trying to raise and maintain people's incomes

Indirect measures: creating an environment that fosters 65

productive employment for the poor

Direct measures to raise incomes 68

Summary 89

6. WATER 90

The rural water management problem 90

Potential benefits of improved water supplies 91

Government-village partnership in water management 91

Government's role in building sustained self-help in 93

water management

Key food security issues involving water 94

Summary 97

7. LIVESTOCK 99

Managing the local livestock sector during a drought 99

Managing livestock development to promote food 104

security: Dos and Don'ts

Summary 107

8. FINANCE FOR LOCAL FOOD SECURITY 109

Assessing the local financial system as it affects the poor 110

Improving the local financial system for the poor 113

Improving project funding 116

Summary 118

9. GOVERNMENT-NGO CO-OPERATION 120

The nature of NGOs 120

NGO dilemmas 121

Working with local NGOs 122

Strengths and weaknesses of national and foreign 122

NGOs

NGOs and food security 124

Summary 125

10. PREPAREDNESS FOR FAMINE PREVENTION 127

The basis for disaster preparedness 128

Essential disaster preparedness measures: national and 130

local

Making local preparedness administration more 137

effective under adverse circumstances

Appendix I: Rapid and participatory appraisal tools 139

Appendix II: Kenya's Turkana District drought

preparedness plan 142

Glossary of food security terms 145

Notes 147

References 149
Michael Hubbard
Michael Hubbard is based at the School of Public Policy, University of Birmingham, UK, and has worked in rural development in Africa and southern Asia.
Reconstituting Motherhood: Milk Powder Marketing in Sri Lanka
Greenaway, Alison
Larner, Wendy
Le Heron, Richard
Environment and Planning D: Society and Space, Vol. 20 (2002), Iss. 6 P.719
https://doi.org/10.1068/d263t
[Citations: 3]
The right to food as a human right in South Sudan
Jacob, K. Lupai
International Journal of Sociology and Anthropology, Vol. 10 (2018), Iss. 4 P.43
https://doi.org/10.5897/IJSA2018.0754
[Citations: 0]