Book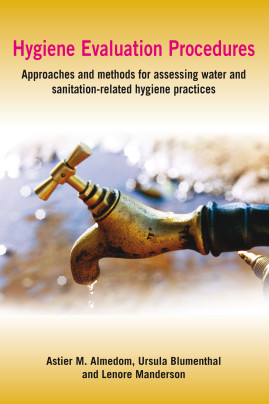 This handbook provides practical guidelines for evaluating water and sanitation related hygiene practices for the purposes of project planning, monitoring or impact assessment. The main focus, therefore, is on the practical concerns of field personnel working in water supply, sanitation, and health / hygiene education projects. It is also designed to make qualitative research skills accessible to practitioners with little or no previous training in social sciences and emphasizes how to gather, review, and interpret qualitative information. The use of a variety of sources and methods is advocated as the best way to obtain complete and reliable information on the issues under study.
Acknowledgements

List of abbreviations

Glossary

Introduction

1. What is the HEP?

2. Planning a hygiene evaluation study

3. Training the study team

4. Designing a hygiene evaluation study

5. Methods and tools for investigating the context

6. Investigating hygiene practices

7. Analysis, presentation, and implementation of findings

Selected reading
'A practical, yet meticulous, handbook for field personnel in water, sanitation and hygiene education projects based on field-tested methods and tools. An outstanding guide for trainers and practitioners.'
Susan Murcott, Water Engineer, Massachusetts Institute of Technology

'The Hygiene Evaluation Procedures handbook is an important tool for any student or practitioner conducting socio-cultural fieldwork in water-related disciplines. The methods outlined in this book are also easily adaptable to anthropological studies of other natural resources.'
Ayron Strauch, University of Hawaii at Manoa, Department of Natural Resources and Environmental Management

Astier M. Almedom
Astier M. Almedom, MA, D.Phil., is an applied anthropologist educated at Oxford University (Wadham College). She taught in the London School of Hygiene and Tropical Medicine (University of London) in the 1990's; and served in senior management of the UK government National Health Service prior to joining Tufts University as the Henry R. Luce Professor in Science and Humanitarianism.
Ursula Blumenthal
Ursula Blumenthal is at the London School of Hygiene and Tropical Medicine, London, England
Lenore Manderson
Lenore Manderson is an inaugural Australian Research Council Federation Fellow and Professor of Medical Anthropology in the School of Psychology and Psychiatry, Faculty of Medicine, Nursing and Health Sciences, and the School of Political and Social Inquiry, Faculty of Arts, at Monash University, Australia.