Book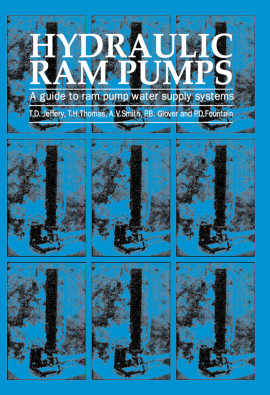 Hydraulic Ram Pumps
A guide to ram pump water supply systems
Published: 1992
Pages: 144

eBook: 9781780442471
Paperback: 9781853391729
Step-by-step instructions on designing, installing and operating water supply systems based on hydraulic ram pumps. With illustrations and diagrams, and details of a pump designed for local manufacture and notes for those developing their own model.
PREFACE vi

ACKNOWLEDGEMENTS xii

1 Definitions and debates from mountain regions 1

2 Irrigation in mountain environments and mountain farming systems 15

3 Design and construction issues in hill irrigation 32

4 A framework for analysing hill irrigation activities 61

5 Irrigation and livelihood strategies in mountain regions 74

6 Managing irrigation in mountain areas 92

7 Politics and development interventions in mountain areas 121

8 Development policies and programmes for hill irrigation 140

9 Conclusions: Towards policies that support diversity 164

BIBLIOGRAPHY 177
Water Lifting Water: A Comprehensive Spatiotemporal Review on the Hydro-Powered Water Pumping Technologies
Intriago Zambrano, Juan Carlo
Michavila, Jaime
Arenas Pinilla, Eva
Diehl, Jan Carel
Ertsen, Maurits W.
Water, Vol. 11 (2019), Iss. 8 P.1677
https://doi.org/10.3390/w11081677
[Citations: 8]