Book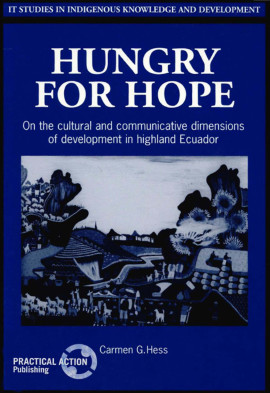 This book deals with indigenous people and the problems that plague agricultural production in the high mountains of Ecuador. The author argues that when indigenous knowledge systems and participatory rural appraisal approaches are placed in the context of communicative action theory, they will gain theoretical, political and practical significance, and cross-cultural co-operation for development should be improved. Aimed at a varied readership, including those with an interest in agricultural knowledge systems, participatory philosophy, or the rural economy and ethnography of the Andes. Published in the Indigenous Knowledge and Development series.
Abbreviations viii

Acknowledgements ix

Preface xi

1. A story of dead sheep 1

Introducing a paradox 4

2. Anthropology and development 7

An uneasy relationship 7

Participatory and indigenous knowledge approaches 9

3. In the parish of the poor 13

Living in Zumbahua 15

Ecology and economy 18

History of Zumbahua 19

The community of Michacala 22

Labour organization 24

Kin 27

Agrarian structure 28

Livestock economy 29

Conclusion 31

4. Views on the environment 34

A scientific view of nature 35

Climate and altitude 35

Geography 37

A Michacalan view of environmental forces 39

Evil wind 41

Taken-by-the-mountain 42

Tingu 44

Conditions for a good harvest 45

5. Veterinary and indigenous models of sheep management 51

Veterinary views of sheep breeding 55

Genetic selection 55

Nutrition 56

Management practices 58

Sheep health 61

A critical review 64

An indigenous model of sheep health 67

Rainbow 67

Bad luck 69

Sinister person 71

Witchcraft 72

Principles of the indigenous model 73

Testing the model: protective witchcraft 76

Conclusion 79

6. Hungry for Hope: on the cultural and communicative

dimensions of development 82

The rationality debate 82

Dialogue and change 85

Communicative rationality 87

Getting hungry for hope 91

Notes 93

Glossary 101

Sources 102

References 103
Transdisciplinary, multilevel action research to enhance ecological and psychopolitical validity
Christens, Brian
Perkins, Douglas D.
Journal of Community Psychology, Vol. 36 (2008), Iss. 2 P.214
https://doi.org/10.1002/jcop.20232
[Citations: 37]
Privatising agricultural extension: caveat emptor
Kidd, A.D
Lamers, J.P.A
Ficarelli, P.P
Hoffmann, V
Journal of Rural Studies, Vol. 16 (2000), Iss. 1 P.95
https://doi.org/10.1016/S0743-0167(99)00040-6
[Citations: 92]
Once Upon a Time: Ancestors and the Evolutionary Significance of Stories
Coe, Kathryn
Aiken, Nancy E.
Palmer, Craig T.
Anthropological Forum, Vol. 16 (2006), Iss. 1 P.21
https://doi.org/10.1080/00664670600572421
[Citations: 21]
Post-agrarian aspirations: tourism and rural politics in Ecuador
Lyall, Angus
Colloredo-Mansfeld, Rudi
Quick, Joe
Canadian Journal of Development Studies / Revue canadienne d'études du développement, Vol. 41 (2020), Iss. 1 P.92
https://doi.org/10.1080/02255189.2019.1675610
[Citations: 9]