Book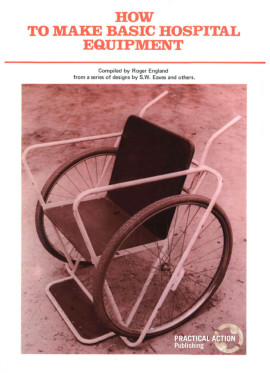 How to Make Basic Hospital Equipment
Published: 1979
Pages: 88

eBook: 9781780444109
Paperback: 9780903031608
There are parts of the world where the amount of money available for health care services is pitifully small. A dollar a head a year buys very little when it has to cover not only salaries, drugs, etc., but also the building and equipping of health care facilities. Prices in the catalogues of even second-hand equipment are enough to deter anyone who wants to start a health centre or small hospital from scratch in one of the many underserved areas where the needs are greatest and money is scarcest.

However, a great deal of the basic but important equipment upon which health services in developing regions depend can be made locally without sophisticated or capital-intensive techniques. In Africa, for example, Will Eaves designed beds, trolleys, wheelchairs and other equipment made from wood, metal tubing and wheels taken from scrap heaps. His plans and designs as well as other developed by health care workers in various parts of the world have now been brought together in the book compiled by Roger England. Is it hoped that they will help to solves some of the problems of equipping rural hospitals using local skills and local resources and materials while still providing adequate equipment for little cost.
Acknowledgement 2

Foreword 3

Preface 4

Introduction 9

BASIC TOOLS AND MATERIALS 12

DESIGNS FROM THE INTERMEDIATE TECHNOLOGY WORKSHOPS,

ZARIA, NIGERIA 13

Folding hospital bed 14

Folding bed 18

Ward screen 23

Hospital wheelchair 29

Out of hospital wheelchair 34

Invalid carriage with chain drive and brake 40

Bicycle ambulance 48

Dressing/instrument trolley 55

Patient's trolley 59

Blood transfusion drip stand 64

Bedside table and locker 68

Suction pump 70

Supine exercising machine 71

Caliper 72

OTHER DESIGNS AND IDEAS 73

Infant weighing scales 74

Sand bed 76

Low pressure air bed 77

Phototherapy box for neonatal jaundice 79

Thermoplastic aids 80

Baby incubator 81

Chair with wheels 85

Walking frame 86
Roger England Roger England is a consultant in the planning and organisation of health care. His recent assignments include the planning of rural health development in south-west Sudan and urban slum health improvement in Jordan. He is also a Research Fellow at the Department of Community Health, Nottingham, working on appropriate planning and management methods in health care.