Book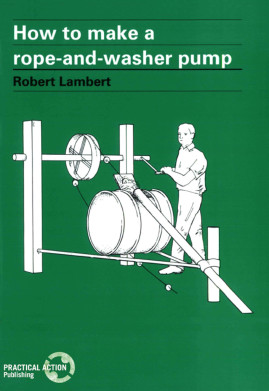 How to Make a Rope and Washer Pump
Published: 1990
Pages: 32

eBook: 9781780444086
Paperback: 9781853390227
Shows how to make a simple, cheap, pump suitable for small-holding and garden use, a pump which can raise water from rivers or wells, with lifts of up to 30 metres. A simple clear text, with line drawings, showing how common materials can be used.
SECTION 1 Introduction 1

Raising the water 1

Distributing the water 2

Principle of operation 2

SECTION 2 Tools and Materials 5

Tools 5

Summary of materials 5

Materials description 6

SECTION 3 Making the Pump 10

The pipe 10

Cutting the tyre and washers 10

Fitting the washers 11

Making the handles 13

Making the pulley 14

Making the pipe-stand and rope-guide 17

SECTION 4 Assembling the Pump 19

The site 19

The poles 19

Mounting the pulley and axle 19

Mounting the pipe 19

Fitting the drum 22

Operation 22

Maintenance 23

SECTION 5 Pump in a Vertical Well 24

Installation 24

Well protection 25

SECTION 6 Cost 27
Robert Lambert
Robert Lambert is Director of RedR. An engineer with over 15 years' experience in Africa and elsewhere, he has extensive experience in selecting, preparing, training and debriefing a wide range of professionals for humanitarian relief work.