Book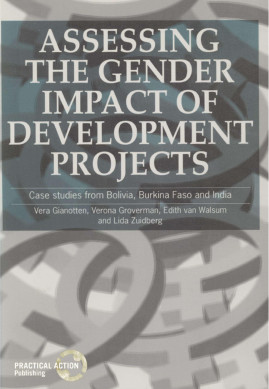 Gender impact assessment is a way to estimate the expected impact of an intervention, such as a development project, on women, and to what extent the specific interests and needs of various categories of women will be affected. Such assessment provides information relevant to project planning, and should preferably take place before a project begins. This book presents three case studies from Burkina Faso, India and Bolivia in which this method was used, plus an introduction to the methodology, conclusions regarding its use, and the lessons to be learned from the studies.
Abbreviations 6

Acknowledgements 7

Preface 9

Introduction 11

1 Methodology 17

2 Bolivia 25

Female peasants as economic actors

Vera Gianotten

3 Burkina Faso 49

Integrated rural development: for whom and with whom?

Lida Zuidberg

4 India 71

Women may lose or gain: expected impact of irrigation projects

Verona Groverman and Edith van Walsum

5 Conclusions 95

About the authors
Vera Gianotten
Vera Gianotten trained as an anthropologist and sociologist; her PhD. is in rural sociology. She has worked in Latin America for fourteen years and has, since 1989, been a senior researcher in the Department of Agriculture and Enterprise Development within the Royal Tropical Institute in Amsterdam. She has published a variety of books and articles on her research.
Verona Groverma
Verona Groverman, a rural sociologist, has built up her experience with gender issues in rural development through her work both in universities and in the field, including projects in Africa that use a participatory approach. For a number of years she has worked as a consultant in rural and agricultural development, specializing in gender.
Edith van Wilsum
Edith van Walsum's university background is in rural development sociology, extension and nutrition. Her extensive experience with gender issues in agriculture has included both her work as assistant professor in the Department of Gender Studies in Agriculture at Wageningen Agricultural University and that as a consultant in Africa and Asia.
Lida Zuidberg
Lida Zuidberg is a rural sociologist who specializes in household studies. She has worked in Indonesia and Mali as well as the Netherlands, and at present is a consultant within the Department of Agriculture and Enterprise Development of the Royal Tropical Institute, Amsterdam. Her focus is on participatory research and extension methods, including gender analysis.
Sustainable investments: Women's contributions to natural resource management projects in Africa
Thomas-Slayter, Barbara
Sodikoff, Genese
Development in Practice, Vol. 11 (2001), Iss. 1 P.45
https://doi.org/10.1080/109614520020019948
[Citations: 9]
Using gender-analysis frameworks: theoretical and practical reflections
Warren, Hannah
Gender & Development, Vol. 15 (2007), Iss. 2 P.187
https://doi.org/10.1080/13552070701391847
[Citations: 20]
Women and Empowerment
Assessing the Impact: NGOs and Empowerment
Dawson, Elsa L.
1998
https://doi.org/10.1007/978-1-349-26265-6_12
[Citations: 1]
Between tradition and post‐coloniality: the location of gender in Australian development policy
Schech, Susanne
Australian Geographer, Vol. 29 (1998), Iss. 3 P.389
https://doi.org/10.1080/00049189808703231
[Citations: 4]
Gender and the Environment: Recent Initiatives to Improve Sustainable Development Policy, Planning and Practice
HÄUsler, Sabine
Gender, Technology and Development, Vol. 1 (1997), Iss. 3 P.327
https://doi.org/10.1080/09718524.1997.11909863
[Citations: 1]
Integrating gender assessment study into environmental impact assessment
Kolhoff, Arend J.
Project Appraisal, Vol. 11 (1996), Iss. 4 P.261
https://doi.org/10.1080/02688867.1996.9727553
[Citations: 2]
Gender and the Environment: Recent Initiatives to Improve Sustainable Development Policy, Planning and Practice
HÄUsler, Sabine
Gender, Technology and Development, Vol. 1 (1997), Iss. 3 P.327
https://doi.org/10.1080/09718524.1997.11909863
[Citations: 1]