Book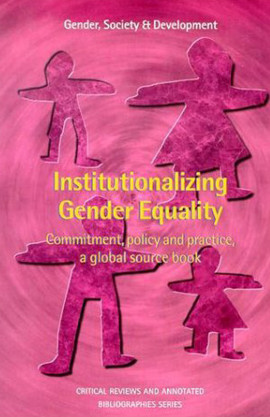 This source book reflects a growing interest in practical experiences in confronting and embedding gender considerations in organizations. The introduction provides a context and considers some of the reasons for failed attempts to make gender sensitive policies a reality; chapters put the challenges of organizational change in an international perspective and review strategies used in Kenya, Mali and elsewhere. Annotated bibliographies help to make the most relevant literature (including 'grey' material) accessible.
Acknowledgements
Acronyms
Introduction: commitments to women and gender
Minke Valk
1. Institutionalizing gender issues in agricultural technology development and transfer: the case of the Kenya Agricultural Research Institute.
Margo Kooijman and Adiel N. Mbabu
2. Gender and ActionAid Nepal.
Deep Ranjani Rai
3. Participation as a vehicle for change: the institutionalization of gender within the CMDT.
Wilma Wentholt, Tata Coulibali Djire and Koos Kingma
4. Feminism at work. A case study of transforming power relations in everyday life: Puntos de Encuentro.
Teresita Hernandez and Veronica Campanile
5. Transforming institutions: history and challenges. An international perspective.
Aruna Rao and Michelle Friedman
Annotated bibliograghy
Guide to the bibliography
Author index
Subject index
Geographical index
Web resources
About the authors

Sarah Cummings
Sarah Cummings is Senior Consultant at CDC. Sarah is a founder editor and co-Chief Editor of the open access, peer reviewed Knowledge Management for Development Journal. She is a member of the Advisory Board of Hivos and of the Editorial Board of the journal, Development in Practice.